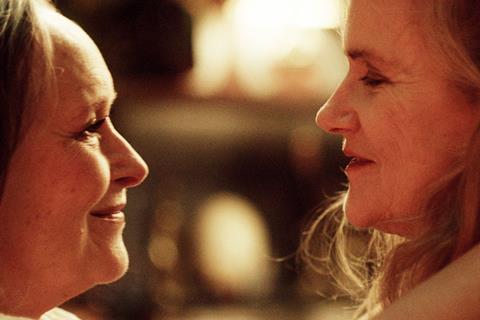 France has selected Italian director Filippo Meneghetti's drama Two Of Us as its submission for the best international film category of the 2021 Oscars.
The France-set drama stars Barbara Sukowa and Martine Chevallier as a lesbian couple facing up to the challenge of coming out after two decades of secret passion and companionship.
It was produced by France's Paprika Films, Luxembourg's Tarantula and Belgium's Artémis Productions. The Party Film Sales handles international rights.
It premiered at Toronto in 2019 where Magnolia took US rights.
The distributor had planned a US theatrical release for April 2020, with a US premiere at the Lincoln Center and MoMA's New Directors/New Films (ND/NF) showcase in March but these plans were cancelled due to the Covid-19 pandemic. It is now planning a February 5, 2021 theatrical launch.
The film was released in France last February by Sophie Dulac Distribution.
Two-part selection process
This year's selection committee for the French submission included directors Mati Diop and Olivier Nakache; producers Marc du Pontavice and Anne-Dominique Toussaint; and international sales agents Carole Baraton, co-head of Charades, and Juliette Schrameck, who recently left as head of sales at mk2 films to move into production.
They joined perennial institutional committee members, Cannes delegate general Thierry Frémaux, Unifrance president Serge Toubiana, and the newly installed César Academy president Veronique Cayla.
The selection was made over the course of a two-part selection process, overseen by National Cinema Centre (CNC) president Dominique Boutonnat.
The committee first met last Thursday (November 12) to draw up a short-list which also included Maïmouna Doucouré's debut feature Cuties, Maïwenn's fifth feature DNA, Ozon's 20th feature Summer Of 85 and Fanny Liatard and Jérémy Trouilh's debut feature Gagarine.
The selection committee then auditioned the director, producer and sales agent for each of the candidate films this Thursday.
France's Oscar Legacy
France last won the Oscar for best foreign language film in 1993 with Régis Wargnier's Indochine.
The country made waves in the contest last year, however, with Ladj Ly's debut picture Les Misérables which made it onto the final nomination shortlist alongside the hot favourite and eventual winner Parasite as well as Corpus Christi, Honeyland, and Pain And Glory.
Prior to that, the country's last nomination was in 2016 with Deniz Gamze Ergüven's Mustang, which was another first feature.
Next year's Academy Awards are due to take place in Los Angeles on the postponed date of April 25, 2021, due to the Covid-19 pandemic.
Under this year's timings, features that were released theatrically or were scheduled to be released in cinemas between October 1, 2019 and December 31, 2020 in their country of production are eligible for consideration for best international film.
Films that were scheduled to be theatrically released in this period but then got pulled due to cinemas shutting down as part of lockdown measures also remain eligible.