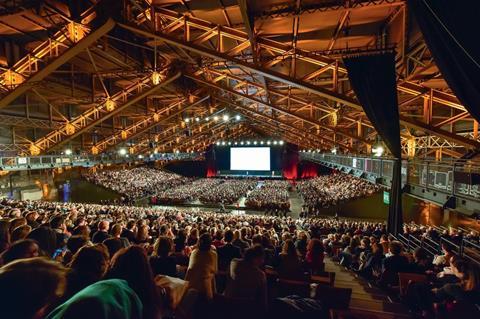 France's Institut Lumière in Lyon has signalled its intention to push on with the 11th edition of its annual cinema heritage focused Lumière Festival this year in an announcement reconfirming its October 10 to 18 dates.
The festival's burgeoning International Classic Film Market (MIFC), aimed at cinema heritage industry professionals, will also run from October 13 to 16.
Spearheaded in 2009 by Cannes Film Festival delegate Thierry Frémaux, in his other role of Institut Lumière general director, and the institute's president, director Bertrand Tavernier, the Lumière Festival has a strong local following but has also steadily increased its international reach over the years.
Guests at last year's 10th anniversary edition included Martin Scorsese, Frances McDormand, Bong Joon Ho, Gael Garcia Bernal, Donald Sutherland, Gaspar Noé and Monica Bellucci.
The announcement comes as the international film festival and market circuit attempts to start up again from the end of August onwards, after a near five-month hiatus due to the Covid-19 pandemic which shut down scores of events including Cannes.
"Last year, 200,000 festivalgoers attended Lumière. This October, the operations and advancement of the festival will be carried out in accordance with the possibilities and constraints related to the global health crisis experienced since the spring of 2020," the Lumière Institut said in a statement.
"The Lumière festival is looking forward to welcoming the artists, audiences, professionals, journalists, volunteers and exhibitors as well as the public and private partners who have supported the festival since its inception."
Although the programme is focused mainly on classic cinema it also screens a handful of contemporary titles – such as Parasite and The Irishman in 2019. Frémaux has suggested that event could screen some of the titles in the special 2020 selection of the Cannes Film Festival, which is expected to be announced next week.
In the meantime, the festival announced a handful of first highlights of its classic film programme.
They include a retrospective of the work of late French writer and director Michel Audiard, to mark the centenary of his birth in 1920. His son Jacques Audiard and grandson Stéphan Audiard will participate in the celebration, which will feature a number of restored films from his filmography.
The festival will also pay hommage to late US director Clarence Brown, a key figure in the Golden Age of Hollywood, whose credits included Anna Karenina, National Velvet, The Yearling and Intruder In The Dust.
The festival will announce further details of it programme as well as who will receive its Lumière Award this year in the coming weeks. Past recipients of the Lumière Award have included Quentin Tarantino, Ken Loach and Jane Fonda.