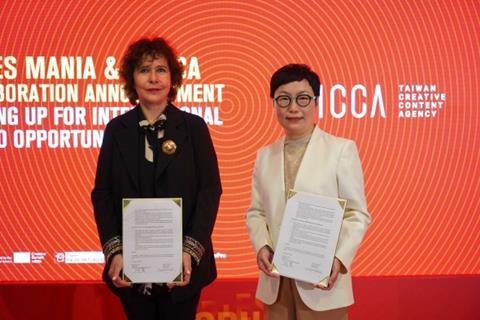 Taiwan Creative Content Agency (TAICCA) has forged a strategic alliance with French TV festival Series Mania to strengthen industry ties between Taiwan and Europe.
Announced today (March 23) at Series Mania in Lille, the partnership will see the French festival and TAICCA organise co-production workshops for project teams to present at future editions of Series Mania.
Top European decision makers will also be invited to attend Taiwan Creative Content Fest (TCCF), the industry festival and market overseen by TAICCA in November.
The alliance is aimed at creating a fast track for creators, producers, investors, and distributors from both sides to secure market access in Asia and Europe.
TAICCA chairperson Ting Hsiao-Ching signed the agreement with Séries Mania general director Laurence Herszberg.
"Taiwan shares European values on freedom, democracy, inclusion, and diversity as well as a similar funding ecosystem," said Ting. "It is a natural fit for European projects looking for co-production partners in Asia. With content development and international co-production incentives, TAICCA is committed to facilitating cooperation between Taiwan and Europe."
Ting is in Lille to introduce 56 up-and-coming projects from 24 production companies in the Taiwan Pavilion at Séries Mania. She will also participate in a Lille Dialogues panel discussion on March 24 to showcase production advantages and practices in Taiwan.
TAICCA was established in May 2019 as an intermediary organisation to assist the development of local cultural content industries including film and TV. It receives support from inter-government departments and has a board of directors comprising professionals in the private sector.