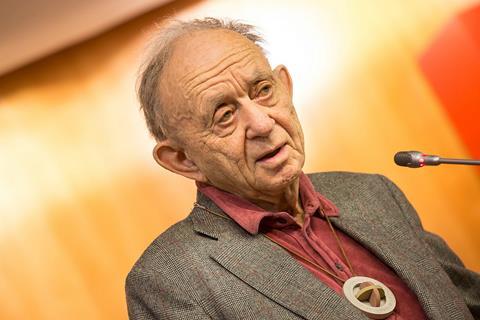 Documentarian Frederick Wiseman will take part in a masterclass and A&E IndieFilms founder and head Molly Thompson will deliver a keynote at the International Documentary Association's (IDA) three-day Getting Real '18 conference in Los Angeles in September.
The event, held in partnership with the Academy of Motion Picture Arts and Sciences, is a biennial conference on documentary media and takes place from September 25-27.
Getting Real '18 will kick off with a pre-conference screening to mark the 10th anniversary of Robert Kenner's Food, Inc., presented by the Academy, Participant Media and River Road Entertainment.
This year, conference panels and keynote presentations will focus on the themes of sustainability, transparency, and creativity.
Joining Thompson on the keynote roster are curator and film scholar Chi-hui Yang, and filmmaker and human rights attorney Michèle Stephenson.
Thompson is also an executive producer and has overseen feature documentary production for A+E Networks, whose slate has included City Of Ghosts, Murderball, and Life, Animated.
The conference also will feature a Masterclass with Wiseman, and will host an inaugural assembly of filmmakers with disabilities and a panel discussion with Jennifer Brea (director of Unrest), Lawrence Carter-Long (communications director, Disability Rights Education & Defense Fund), Day Al-Mohamed (supervisory analyst, U.S. Department of Labor), and James Lebrecht (sound designer, Minding The Gap, In Football We Trust).
"At the third edition of Getting Real we will witness the vibrant growth and diversity of the documentary community," said Claire Aguilar, IDA's director of programming and policy. "The theme of Sustainability looks at the day-to-day economic realities of the documentary filmmaker and at the global impact of non-fiction media.
"Transparency reveals true and factual information behind all aspects of documentary. And Creativity shows the vast storytelling and technical innovation that we witness today. Getting Real will showcase voices and perspectives from all sectors of documentary."
For more information, click here.