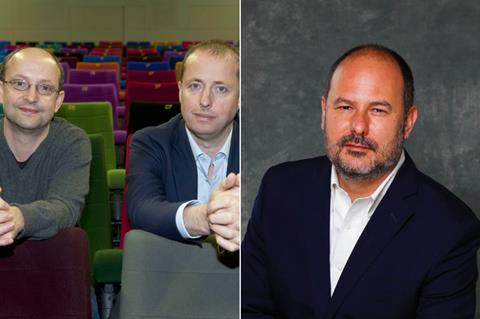 Global production and distribution giant Fremantle has acquired a majority stake in Irish production company Element Pictures, in a major acquisition for the European independent sector.
The deal was confirmed by Fremantle's group COO and continental Europe CEO Andrea Scrosati, along with Lorenzo De Maio of US firm De Maio Entertainment, which is backed by Fremantle. De Maio will be a strategic advisor and partner across Element Pictures' slate.
According to Fremantle, the acquisition demonstrates the company's "strategic plan to invest in and develop premium production companies and creative talent from around the world."
Founded by Ed Guiney and Andrew Lowe in 2001, Element has offices in Dublin, London and Belfast. The company broke onto the Oscar stage with Lenny Abrahamson's Room in 2015, following that up with Yorgos Lanthimos' The Favourite in 2018. Upcoming productions include Joanna Hogg's The Eternal Daughter starring Tilda Swinton, Sebastian Lelio's The Wonder with Florence Pugh; and Lanthimos' Poor Things with Emma Stone.
"Creative freedom will sit at the very heart of this partnership," said Scrosati. "We look forward to working closely with their immensely talented creatives, helping to build on their slate of high-quality, sophisticated, and powerful productions."
"Collaborating closely with Jen, Andrea, Lorenzo, Christian, Jens, and their brilliant team will allow us to build on and grow our existing relationships with the very best creators in the world and expand our capacity to make exceptional film and television drama for international audiences," said a statement from Guiney and Lowe.
On the TV side, Element scored a worldwide hit with Sally Rooney adaptation Normal People in 2020; the company's next version of Rooney's work, Conversations With Friends, debuts on BBC Three and iPlayer this Sunday, May 15. Also in the works is Shane Meadows' first series with the BBC, The Gallows Pole.
Element is the latest acquisition in a busy year for Fremantle, after UK companies Dancing Ledge and Label1, Italy's Lux Vide, Australian-US TV firm Eureka Productions and international company Fabel, plus 12 production labels from the Nordic Entertainment Group.
RTL Group, which owns Fremantle, set out aims to increase the company's full-year revenue target to €3bn by 2025.