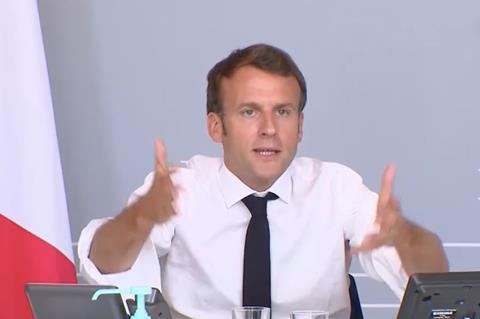 French cinemas have been dealt a fresh blow following the announcement tonight (October 14) of a 9pm to 6am curfew for at least four weeks in Paris and eight other major cities in France which will take effect on Saturday night (Oct 17).
Under the measure, introduced to slow down a resurgence in Covid-19 cases in France in recent weeks, people will be obliged to be back home by 9pm.
This means that cinemas will need to end their final screening of the day by around 8pm to allow enough time for spectators and staff to get home before the start of the curfew.
French president Emmanuel Macron announced the measure in a televised address to the nation on Wednesday evening.
"We have to stop the spread of the virus," he said.
The measures follow a surge in Covid-19 cases across France since early September. The government has progressively ratcheted up localised lockdown measures but the number of cases has continued to rise nonetheless and is now hitting around 20,000 cases a day.
Macron listed the other impacted cities as Grenoble, Lille, Lyon, Aix-Marseille, Montpellier, Rouen, Saint-Etienne and Toulouse.
He said the curfew would remain in place for at least four weeks but could last up until December 1, depending on the results.
In total, the impacted cities are home to around 20million people, or just under a third of the entire French population.
The measure will be a blow for France's 2,045 cinema theatres, around 300 of which (accounting for 1,147 screens) are situated in Paris and the Ile-de-France alone.
It means key evening screenings, which usually start around 8pm and 10pm, will no longer be viable under the curfew.
French cinemas reopened on June 22 after a 14-week hiatus due to France's national lockdown. In the absence of big US titles, they have been achieving relatively good results, given the circumstances, with local mainstream dramas and comedies. It will be impossible to keep up this momentum without the evening screenings.
According to the National Cinema Centre (CNC) figures, the box office was running at around 50% of 2019 levels as of September, which is higher than many other European territories.
Last week, bars, cafes, swimming pools, gyms, gaming rooms and dance halls had already been forced to close in Paris and other major cities as part of fresh restrictions but cinemas and theatres were excluded from these measures because of their strict hygiene protocols.
Global exhibitor heads urge New York governor to reopen cinemas