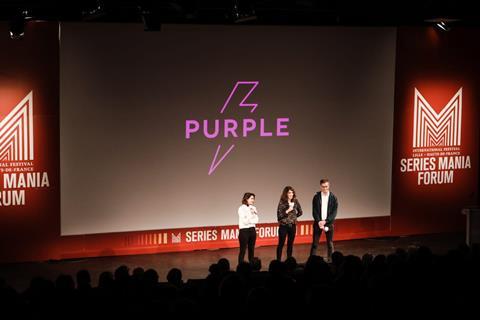 French drama project Purple, inspired by the true story behind the creation of a real-life iconic 1990s lesbian nightclub in Paris, has clinched the top €50,000 ($42,854) prize in the Co-Pro Pitching Sessions event of TV festival and industry event Series Mania, running March 22-30 in the northern French city of Lille.
A total of 16 projects were pitched at the project development and financing event, which continues today with one-on-one meetings and is a key pole of Series Mania's three-day Forum industry programme.
"We were impressed with Purple's key themes of empowerment and optimism. The characters felt dynamic and original, while the story emphasized opportunity and positivity," said jury president Meghan Lyvers, SVP Co-Production & Development, CBS Studios International.
The series – consisting of eight 40-minute episodes - is written by Judith Havas and Noémie de Lapparent and produced by Priscilla Bertin and Judith Nora at Paris-based Silex Films and Harold Valentin, Aurélian Larger and Simon Trouilloud at Mother Production.
The storyline revolves around five women involved who set-up a female-focused club in Paris as a safe and free space for women. It is inspired by the true story of the creation of the Pulp nightclub in Paris.
Other jurors included Nathalie Biancolli, director of acquisitions and international fiction, France Télévisions; Anna Croneman, head of programme film and TV drama, SVT; Caroline Torrance, head of scripted, Banijay Rights, and Christian Vesper, EVP and creative director for global drama, Fremantle.
A total of 399 projects from 41 countries were submitted for consideration to participate in the Co-Pro Pitching Sessions, which marked its seventh edition this year.
"We all know how difficult it is to finance the beginning of a project and this is why Series Mania created this €50,000 prize to help the creators finance and develop their ideas," commented Laurence Herszberg, founder and general director of Series Mania.
The Series Mania Forum programme continues on Tuesday (March 26) with talks by TV dramatist Nigel Williams, showrunner Hugo Blick and director Mahalia Belo and will host the second edition of Lille Transatlantic Dialogues on Wednesday, featuring Netflix COO Ted Sarandos and MPAA chief Charlies Rivkin as speakers.