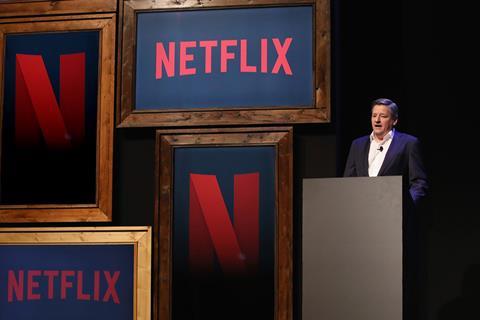 Netflix COO Ted Sarandos and MPAA chief Charles Rivkin will be among the speakers at the second edition of the Lille Transatlantic Dialogues taking place on March 27 within the framework of the Series Mania television festival and industry meeting in the northern French city of Lille (March 22-30).
Describing itself as "a privileged witness of the convergence between cinema and series", the festival said the main aim of the day's discussions would be to promote dialogue between Europe and the US, with the support of the European Commission and France's National Cinema Centre (CNC).
"This day of reflection orchestrated by Series Mania brings together those who preside over the destinies of the global drama production: writers, producers, broadcasters, platforms and European regulators," the festival said in a release.
Other speakers representing US companies and bodies will include former Writers Guild of America president Howard Rodman, Amazon Studios head of European Originals Georgia Brown and Endeavour Content head of TV advisory and partner Lorenzo De Maio.
Participants representing the European film and TV scene will include TF1 Group CEO Gilles Pélisson, France Televisions CEO Delphine Ernotte-Cunci and M6 Group CEO Nicolas de Tavernost. French Minister of Culture Franck Riester will also address the audience.
Sarandos's presence at the event follows the participation of Netflix CEO Reed Hastings at the inaugural Lille Transatlantic Dialogues last year. Sarandos will open the day, participating in an In Conversation session, followed by Tavernost and Rivkin in similar on-stage dialogues.
The trio will then debate the topic "towards a new balance between creators and platforms".
The Lille Transatlantic Dialogues will run concurrently with the final day of Series Mania's wider three-day industry programme, which features talks with UK showrunner Hugo Blick as well as director Mahalia Belo (Requiem, The Long Song), a case study about hit series Killing Eve with its producers and in an In Conversation with UK screenwriter and playwright Nigel Williams.