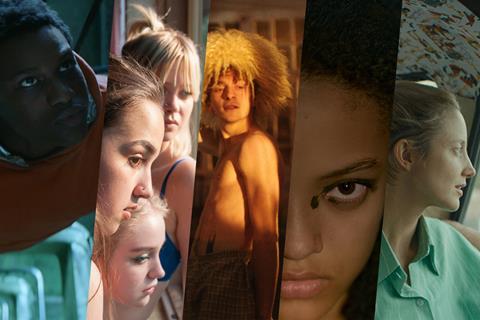 Paris-based sales company Totem Films is moving into co-production and has expanded its team with the hire of emerging producer Elsa Payen as part of the strategy.
Payen, who recently completed the pan-European, post-graduate Atelier Ludwigsburg-Paris course, has worked on a number of high-profile international productions over the last five years, including Ford v Ferrari, The Marvellous Mrs. Maisel, Mission: Impossible – Fallout, Sense8 and Dunkirk.
Totem's move into production comes just over a year after sales agents Agathe Valentin, Bérénice Vincent and Laure Parleani joined forces to launch the company in October, 2018.
"It makes sense for us to get into co-production, given the way we already collaborate on projects that we bring to the international market, both from a financial point of view as well as one of accompanying rising talents," said Valentin.
"We're in the process of deepening our expertise, country by country," Parleani added. "The aim is to build a network of partners with whom we can share and enrich the types of stories we want to transmit."
They will announce their first partnerships later this year.
Paris Rendez-vous, Sundance slates
On the sales front, Totem is at its first Unifrance Rendez-vous with French Cinema in Paris (Jan 16-20) this week and then heads to its debut Sundance.
In Paris, it will launch three French-language titles: dramas Gagarine by directorial duo Fanny Liatard and Jérémy Trouilh and Softie by Samuel Theis as well as feature documentary WE by Alice Diop.
Gagarine revolves around a teenager with dreams of becoming an astronaut who embarks on a mission to save the tower block he calls home when it is earmarked for demolition, likening it to a spaceship in his imagination.
Big screen debutant Alséni Bathily plays the protagonist opposite Lyna Khoudri, star of Algerian Oscar submission Papicha, and French-British actor Finnegan Oldfield, whose credits include Reinventing Marvin and Nocturama.
Paris-based production and distribution house Haut et Court is producing and holds French rights.
Softie is Theis's first solo feature after 2014 Cannes Camera d'Or winner Party Girl, which he co-directed with Marie Amachoukeli and Claire Burger.
Aliocha Reinert makes his big screen debut as an unusual, 10-year-old boy from a difficult background whose world is opened up by the arrival of a new teacher at his school, played by Antoine Reinartz (BPM). Ad Vitam has taken French rights.
In WE, celebrated documentarian Diop takes a poetic journey on Paris' RER B suburban train line, exploring the French capital's poorer inner-city areas and suburbs through the stories and characters she encounters along the way.
At Sundance, the company is handling international sales on Zeina Durra's Egypt-set romantic drama Luxor, which will premiere in the Sundance World Cinema Dramatic Competition. Andrea Riseborough stars as an aid worker who heads to the ancient city of Luxor for a break, where she rekindles a relationship with an archaeologist.
Other completed titles on its slate include Finnish anthology series Force Of Habit exploring gender-based discrimination against women in their public and private life. The 11-episode work – involving 15 Finnish female directors – is due to premiere at the Göteborg Film Festival (Jan 24-Feb 3).
It is also handling Israeli filmmaker Shirel Peleg's cross-cultural comedy, love-story Kiss Me Before It Blows Up. The English, German, Hebrew, Arabic-language production revolves around two generations of women from the same Israeli family who fall for a German woman and a Palestinian man respectively, sowing chaos in the process.
Berlin and Los Angeles-based production company Fireglory produces and distributor X Verleih has acquired German rights.
Upcoming
Upcoming titles include China-set drama Moneyboys, starring Taiwanese star Kai Ko as a rent boy who sells his body to support his family. French rights have been snapped up by Paris-based distributor ARP, which has just released Chinese Cannes Critics' Week closing film Dwelling In The Fuchun Mountains in France.
It is the debut feature of Chinese director C.B.Yi who studied at the Vienna Academy under the guidance of Michael Haneke.
The company is also looking forward to launching Juho Kuosmanen's Tran-Siberian-set drama Compartment No 6 about a young Finnish woman who finds herself thrown together with a Russian man when she sets off for Mongolia to escape a love triangle. The film – which was Totem's first sales acquisition last February – is fully financed and due to start shooting late spring.
The company has also boarded sales on its first feature animation in the shape of My Sunny Maad by Oscar-nominated Czech animator Michaela Pavlátová. Adapted from a novel by Czech journalist and humanitarian worker Petra Procházková, it follows a woman who marries an Afghan man and moves to post-Taliban Kabul, not knowing what to expect.
Taking stock of Totem's first year of activity, the trio said the company has remained true to its founding ethos to build a slate supporting gender equality made up of content spanning different formats, territories and genres.
"Beyond the strong presence of female directors and producers in our line-up we're particularly happy about the way all these films question normalcy," said Vincent.
The sales success of one of its first acquisitions Cannes Directors' Fortnight title And Then They Danced, which was picked up in 35 countries, as well as the support of public and private backers, meant Totem was well-placed to continue its growth into its second year, they added.