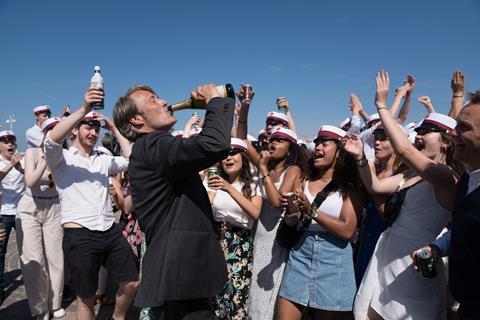 French cinemas reopen this Wednesday (May 19) after lying dark for six months due to the Covid-19 pandemic, with the country's 100-plus distributors rushing to set theatrical dates for an estimated backlog of 400 stalled films.
As a result, French cinemagoers will have access to the richest and most diverse offering of films in the world over the coming months, spanning festival titles, local mainstream comedies and dramas, world cinema and studio blockbuster fare, as the summer advances.
As of May 17, some 250 films were due to be released in France from May 19 to mid-September, not including a major 46-title retrospective devoted to the work of Iranian director Abbas Kiarostami this July.
This number is expected to increase over the summer as Cannes, Venice and other summer festival titles are added to the mix alongside studio releases.
France's preliminary summer 2021 release calendar (as of May 17)
Title, director, distributor, nationality
(* indicates the film was previously released in 2020. ** Classic re-release)
May 19
30 Days Left*, Tarek Boudali, Studiocanal (Fr)
100% Wolf*, Alexs Stadermann, Alba Films (Australia)
Another Round*, Thomas Vinterberg, Haut Et Court (Den)
Breathless**, Jean-Luc Godard, Carlotta Films, 4K re-release (Fr)
Bye Bye Morons*, Albert Dupontel, Gaumont (Fr)
Calamity Jane*, Remi Chayé, Gebeka Films (Fr)
DNA*, Maïwenn, Le Pacte (Fr)
Demon Slayer The Movie: Mugen Train, Haruo Sotozaki, CRG Events (Jp)
Ecoliers, Bruno Romy, Le Vingt-Cinquième Heure (Fr)
The Endless Trench, Jon Garãno, Aitor Arregi, José Mari Goenaga, Epicentre Films (Sp, Fr)
L'Étreinte, Ludovic Bergery, Pyramide Distribution (Fr)
Falling, Viggo Mortensen, Metropolitan Filmexport (Can, UK)
Fly Me Away, Christophe Barratier, Pathé (Fr)
Josep * Aurel, Sophie Dulac Distribution (Sp, Fr, Bel)
The Last Journey of Paul W.R., Romain Quirot, Tandem Films (Fr)
Little Vampire*, Joann Sfar, Studiocanal (Fr)
Mandibules, Quentin Dupieux, Memento Distribution (Fr)
My Best Part*, Nicolas Maury, Les Films du Losange (Fr)
On-Gaku: Our Sound, Kenji Iwaisawa, Eurozoom (Jp)
Poly*, Nicolas Vannier, SND (Fr)
Sin*, Andrei Konchalovsky, UFO Distribution (It, Ru)
The Snail And The Whale, Max Lang, Daniel Snaddon, Les Films du Préau (UK, Czech, Switz)
Slalom, Charlène Favier, Jour2Fête (Fr)
StarDog and TurboCat, Ben Smith, KMBO (UK)
Tom And Jerry, Tim Story, Warner Bros France (US)
Trolls World Tour*, Walt Dohrn, Universal Pictures France (US
Two Of Us*, Filippo Meneghetti, Sophie Dulac Distribution (Fr, Lux, Bel)
Under The Stars Of Paris*, Claus Drexel, Diaphana Distribution (Fr)
Violet Evergarden, Kana Akatsuki, Eurozoom (Jp)
The Wickerman**, Robin Hardy, Lost Films (UK)
May 26
Balloon, Pena Tseden, Condor Distribution (China)
Detective Conan: The Scarlet Bullet, Tomoka Nagaoka, Eurozoom (Jp)
Extinct, David Silverman, SND (Can, China, US)
The Father, Florian Zeller, Orange Studio, UGC Distribution (UK, US)
Hospitalité**, Kôji Fukada, Art House (Jp)
Meander, Matthieu Turi, Alba Films (Fr)
Il Mio Corpo, Michele Pennetta, Nour Films (It, Switz)
In Search Of Greatness, Gabe Polsky, Jupiter Films (US)
Paris Stalingrad, Hind Meddeb, Thim Naccache, Le Vingt-Cinquième Heure (Fr)
Promising Young Woman, Emerald Fennell, Universal Pictures France (US)
Should The Wind Drop, Nora Martirosyan, Arizona Distribution (Fr, Arm, Bel)
Sons Of Philadelphia, Jérémie Guez, The Jokers (US, Fr, Bel)
Towards The Battle, Aurélien Vernhes-Lermusiaux, Rezo Films (Fr)
The Tree, Petar Fradelic, Ed Distribution (Port, Bos & Her)
June 2
Come As You Are, Richard Wong, Star Invest Films France (US)
Chacun Chez Soi, Michèle Laroque, Studiocanal (Fr)
Home Front, Lucas Belvaux, Ad Vitam (Fr)
Hungry Bear Tales, Alexandra Hetmerova, Katerina Karhankova, Gebeka Films (Czech)
Matriarch, Jure Pavlovic, Damned Distribution (Cro, Ser, Fr, Bos & Her)
Nobody, Ilya Naishuller, Universal Pictures France (US)
Petite Maman, Céline Sciamma, Pyramide Distribution (Fr)
Playlist, Nine Antico, KMBO (Fr)
Servants, Ivan Ostrochovský, ARP Sélection (Slo, Ire, Czech, Rom)
Suzanna Andler, Benoit Jacquot, Les Films du Losange (Fr)
The United States Vs. Billy Holiday, Lee Daniels, Metropolitan FilmExport (US)
Villa Caprice, Bernard Stora, Bac Films (Fr)
June 9
17 Blocks, Davy Rothbart, Sophie Dulac Distribution (US)
Conjuring 3, Michael Chaves, Warner Bros France (US)
L'Instant Présent, Florian Hessique, Panoceanic Films (Fr)
Forgotten We'll Be, Fernando Trueba, Nour Films (Col)
Freaky, Christopher Landon, Universal Pictures France, (US)
The Last Hillbilly, Thomas Jenkoe, Diane-Sara Bouzgarrou, New Story (Fr, Qat)
Nafi's Father, Mamadou Dia, JHR Films (Sen)
Nomadland, Chloe Zhao, Walt Disney France (US)
Rascal, Peter Dourountzis, Rezo Films (Fr)
The Speech, Laurent Tirard, Le Pacte (Fr)
200 Metres, Ameen Nayfeh, Shellac Films (Jor, Pal)
Twilight's Kiss (aka Suk Suk), Epicentre Films (HK)
June 16
143 Sahara Street, Hassen Ferhani, Météore Films (Alg, Fr, Qat)
A Quiet Place Part II, John Krasinki, Paramount Pictures France (US)
Basic Instinct**, Paul Verhoeven, Carlotta, 4K re-release (US)
Crock Of Gold, Julien Temple, Dean Media (UK)
Douce France, Geoffrey Couanon, Jour2Fête (Fr)
Final Set, Quentin Reynaud, Apollo Films (Fr)
French Tech, Bruno Podalydès, UGC Distribution (Fr)
Josee, The Tiger And The Fish, Kotaro Tamura, Eurozoom (Jp)
Let Him Go, Thomas Bezucha, Universal Pictures France (US)
Long Time No See, Pierre Filmon, Almano Films (US)
The Man Who Sold His Skin, Kaouther Ben Hania, Bac Films (Tun, Fr, Bel, Swe, Ger)
A Night Doctor, Elie Wajeman, Diaphana Distribution (Fr)
Sound Of Metal, Darius Marder, Tandem Films (US)
Spring Blossom, Suzanne Lindon, Paname Distribution (Fr)
The Swarm, Just Philippot, The Jokers (Fr)
There Will Be No More Light, Eléonore Weber, UFO Distribution (Fr)
Veins Of The World, Byambasuren Davaa, Les Films du Prèau (Mon, Ger)
When Tomatoes Met Wagner, Marianna Economou, Les Films des Deux Rives (Gr)
Wrath Of Man, Guy Richie, Metropolitan FilmExport (UK, US)
Un Tour Chez Ma Fille, Eric Lavaine, Pathé (Fr)
June 23
Anonymous Animals, Baptiste Rouveure, Anonymous Animals (Fr)
The Courier, Dominic Cooke, SND (UK, US)
Cruella, Craig Gillespie, Walt Disney France (US)
Freaky, Christopher Landon, Universal Pictures France (US)
Ibrahim, Samir Guesmi, Le Pacte (Fr)
In The Heights, Jon M. Chu, Warner Bros France (US)
Gagarine, Fanny Liatard, Jérémy Trouilh, Haut et Court (Fr)
Gallant Indies, Philippe Béziat, Pyramide Distribution (Fr)
Minari, Lee Isaac Chung, ARP Sélection (US)
Opération Portugal, Frank Cimière, Sony Pictures Releasing France (Fr)
Rosa's Wedding, Icíar Bollaín, Memento Distribution (Sp, Fr)
Shorta, Anders Olholm, Frederik Louis Hviid, Alba Films (Den)
Une Histoire À Soi, Amandine Gay, Les Films du Losange (Fr)
Summer White, Rodrigo Ruiz Patterson, Destiny Films (Mex)
Tokyo Shaking, Olivier Peyon, Wild Bunch Distribution (Fr)
Wendy, Benh Zeitlin, Condor Distribution (US)
June 30
Charlatan, Agnieszka Holland, KMBO (Pol, Czech, Ire, Slo)
The Deep House, Alexandre Bustillo, Julien Maury, Apollo Films (Fr, Bel)
Gold For Dogs, Anna Cazenave Cambet, Rezo Films (Fr)
Family Swap, Jean-Patrick Benes, Gaumont (Fr)
February, Kamen Kalev, UFO Distribution (Bul, Fr)
The Fever, Maya Da-Rin, Survivance (Bra, Fr, Ger)
The Hitman's Wife's Bodyguard, Patrick Hughes, Metropolitan FilmExport (US)
Midnight Traveller, Hassan Zazili, Sophie Dulac Distribution (US, Qat, UK)
My Zoé, Julie Delpy, Bac Films (Fr, Ger, UK)
Presidents, Anne Fontaine, Universal Pictures France (Fr)
The Real Thing, Koji Fukada, Art House (Jp)
The Rose Maker, Pierre Pinaud, Diaphana Distribution (Fr)
Skies Of Lebanon, Chloé Mazlo, Ad Vitam (Fr)
Soeurs, Yamina Benguigui, Jour2Fête (Fr)
Solo, Artemio Benki, Nour Films (Czech, Arg, Austria)
Teddy, Ludovic and Zoran Boukherma, The Jokers (Fr)
Peter Rabbit 2: The Runaway, Will Gluck, Sony Pictures Releasing France (US, Australia)
July 6
Annette, Leos Carax, UGC Distribution (Fr, Mex, US)
July 7
Black Widow, Cate Shortland, The Walt Disney Company France (US)
The Croods: A New Age, Joel Crawford, Universal Pictures International (US)
Copilot, Anne Zohra Berrached, Haut et Court (Ger, Fr)
The Father, Kristina Grozeva, Petar Valchonov, Urban Distribution (Bul, Gr)
Fritzi: A Revolutionary Tale, Ralf Kukula, Matthias Bruhn, Septième Factory (Ger)
Fisherman's Friends, Chris Foggin, Alba Films (UK)
Kuessipan, Myriam Verreault, Les Alchimistes (Can)
Hidden Away, Giorgio Diritti, Bodega Films (It)
Moffie, Oliver Hermanus, Outplay (S Afr, UK)
The Real Thing (part 2), Koji Fukada, Art House (Jp)
Sisters In The End Of The World, Vinicius Lopes, Luciana Mazeto, Wayna Pitch (Bra)
Take Me Somewhere Nice, Ena Sendijarevic, Sonata Films (Neth Bos & Her)
This Is Not A Burial, It's A Resurrection, Lemohang Jeremiah Mosese, Arizona Distribution (Les, S Afr)
The Unholy, Evan Spiliotopoulos, Sony Pictures Releasing (US)
July 9
Benedetta, Paul Verhoeven, Pathé (Fr, Neth)
July 14
AINBO: Spirit Of The Amazon, Richard Claus, Jose Zelada, Le Pacte (Per)
Bergman Island (Les Films du Losange)
Do You Do You Saint Tropez, Nicolas Benamou, Studiocanal (US)
Earwig And The Witch, Goro Miyazaki, Wild Bunch International (Jp)
Fast & Furious 9, Justin Lin, Universal Pictures International (US)
Frère D'Arme, Destiny Films, Sylvain Labrosse (Fr)
Henry Miller: Prophet Of Desire, Gero von Boehm, KMBO (Ger)
Infidel, Cyrus Nowerasteh, Saje Distribution (US)
The Mauritanian, Kevin Macdonald, Metropolitan FilmExport (US)
Space Jam: A New Legacy, Malcolm D. Lee, Warner Bros France (US)
July 21
Digger, Georgis Grigorakis, JHR Films (Gr, Fr)
Hotel Transylvania 4, Derek Drymon, Jennifer Kluska, Sony Pictures Releasing France (US)
Louxor, Zeina Durra, Rezo Films (Egy, UK, UAE)
Kaamelott – Premier Volet, Alexandre Astier, SND (Fr)
Nadia, Butterfly, Pascal Plante, Les Alchimistes (Can)
Old, M. Night Shyamalan, Universal Pictures International France (US)
Onoda, Arthur Harari, Le Pacte (Fr)
Spiral: From The Book Of Saw, Darren Lynn Bousman, Metropolitan FilmExport (US)
Sweet Thing, Alexandre Rockwell, Urban Distribution (US)
True Mothers, Naomi Kawasi, Haut et Court (Jp)
The Weasel's Tale, Juan José Campanella, Eurozoom (Arg, Sp)
The Witches Of The Orient, Julien Faraut, UFO Distribution (Fr)
July 28
Babyteeth, Shannon Murphy, Memento Distribution (Australia)
C'est La Vie, Julien Rambaldi, Orange Studio Distribution/UGC Distribution (Fr)
Jungle Cruise, Jaume Collet-Serra, The Walt Disney Company France (US)
Just 6.5, Saeed Roustayi, Wild Bunch Distribution (Iran)
Profession Du Père, Jean-Pierre Améris, Ad Vitam (Fr)
Spirit Riding Free, Elaine Bogan, Universal Pictures International (US)
The Suicide Squad, James Gunn, Warner Bros France (US)
Tsugua Diaries, Maureen Fazendeiro, Miguel Gomes, Shellac (Port)
August 4
About Endlessness, Roy Andersson, KMBO (Swe, Ger, Nor)
American Nightmare 5, Everardo Gout, Universal Pictures International France (US)
Around the World, Studiocanal, Samuel Tourneux (Fr)
A Brighter Tomorrow, Yassine Qnia, Le Pacte (Fr)
Chaos Walking, Doug Liman, Metropolitan FilmExport (US)
The Death Of Cinema And My Father Too, Dani Rosenberg, Nour Films (Isr)
Dream Horse, Euros Lyn, Eurozoom (UK)
The First Death Of Joana, Christiane Oliveira, Epicentre Films (Bra)
Forgotten Roads, Nicole Ruiz Benavides, Outplay (Chile)
Tom Medina, Tony Gatlif, Les Films du Losange (Fr, Swe)
OSS 117: From Africa With Love, Nicolas Bedos, (Gaumont)
August 11
C'est Quoi Ce Papy?!, Gabriel Julien-Laferrière (Fr)
Dogtanian And The Three Muskehounds, Toni Garcia, Star Invest Films France (Sp)
Escape Game 2, Adam Robitel, Sony Pictures Releasing France (US)
Fidelty, Nigina Sayfullaeva, ARP Sélection (Ger)
Free Guy, Shawn Levy, The Walt Disney Company France (US)
I Am Your Man, Maria Schrader, Haut et Court (Ger)
Passion Simple, Danielle Arbid, Pyramide Distribution (Fr)
The People Upstairs, Cesc Gay, Wild Bunch Distribution (Sp)
Pil's Adventures, Julien Fournet, SND (Fr)
Red Soil, Farid Bentoumi, Ad Vitam (Fr, Bel)
August 18
Atarrabi & Mikelats, Eugène Green, UFO Distribution (Fr, Bel)
Attention Au Départ, Benjamin Euvrard, SND (Fr)
Berlin Alexanderplatz, Burhan Qurbani, Le Pacte (Ger, Neth)
Crescendo, Dror Zahavi, Bodega Films (Ger, It, Austria)
Fantasies, Stéphane and David Foenkinos, Gaumont (Fr)
Hatching, Hanna Bergholm, The Jokers (Fin)
L'Horizon, Émilie Carpentier, Les Films du Losange (Fr)
Reminiscence, Lisa Joy, Warner Bros France (US)
Respect, Liesl Tommy, Universal Pictures International France (US)
Snake Eyes, Robert Schwentke, Paramount Pictures France (US)
August 25
The Beatles: Get Back, Peter Jackson, The Walt Disney Company France (US)
Beasts, Naël Marandin, Ad Vitam (Fr)
Candyman, Nia DaCosta, Universal Pictures International (US)
Coven, Pablo Aguero, Sophie Dulac Distribution (Sp, Arg, Fr)
Don't Breathe 2, Rodolfo Sayagues, Sony Pictures Releasing France (US)
Eiffel, Martin Bourboulon, Pathé (Fr)
Fragile, Emma Benestan, Haut et Court (Fr)
The Lodger, Baptiste Drapeau, Capricci Films (Fr)
No Hard Feelings, Faraz Shariat, Sonata Films (Ger)
Paw Control: The Movie, Cal Bunker, Paramount Pictures France (US, Can)
Sometimes Always Never, Carl Hunter, Alba Films (UK)
September 1
The Big Hit (Memento Distribution)
France, Bruno Dumont, ARP Sélection (Fr)
Gogo (Le Pacte)
The Grocer's Son, The Mayor, The Village And The World, Claire Simon, Nour Films
Love Song For Tough Guys, Samuel Benchetrit, UGC Distribution (Fr)
Malignant, James Wan, Warner Bros France (US)
Night Of The Kings, Philippe Lacôte, JHR Films (Fr, Can, Civ, Sen)
Ride Your Wave, Masaaki Yuasa, Alba Films (Jp)
Shang-Chi And The Legend Of The Ten Rings, The Walt Disney Company France (US)
September 8
9 Days In Raqqa, L'Atelier Distribution, Xavier de Lauzanne (Fr)
Casablanca Beats, Nabil Ayouch, Ad Vitam (Mor, Fr)
Black Box, Yann Gozlan, Studiocanal (Fr)
Délicieux, Eric Besnard, SND (Fr)
Fake News, Mouloud Achour, Dominique Baumard, Le Pacte (Fr)
The Heist Of The Century, Ariel Winograd, Eurozoom (Arg)
Laila In Haifa, Amos Gitai, Epicentre Films (Isr)
My Little Sister, Véronique, Stéphanie Chuat, Arizona Distribution (Switz)
One More Jump, Emanuele Gerosa, Wayna Pitch (It, Leb, Switz)
Serre-Moi Fort, Mathieu Almeric, Gaumont (Fr)
Son Of The South, Barry Alexander Brown, Star Invest Films France (US)
Supernova, Harry Macqueen, KMBO (UK)
September 15
Collective, Alexander Nanau, Sophie Dulac Distribution (Ro, UK)
Dear Mother, Laurent Lafitte, Studiocanal (Fr)
Dune, Denis Villeneuve, Warner Bros France (US)
Guermantes, Christophe Honoré, Memento Distribution (Fr)
The Night House, David Bruckner, The Walt Disney Company France (US)
Spiral, Sofiene Mamdi, Reaficta Films (Fr)
Spoiled Brats, Nicolas Cuche, Apollo Films (Fr)
The Third War, Giovanni Aloi, Capricci Films (Fr)
The Translator, Rana, Kazkaz, Anas Khalaf, Alba Films (Syrian, Fr, Switz, Bel, Qat)