Sony's war drama posts $4.4m (£2.7m) debut, including previews, to dethrone Turtles; Icon's The Babadook lands with $557,000 (£345,862) from 147 sites ahead of Halloween.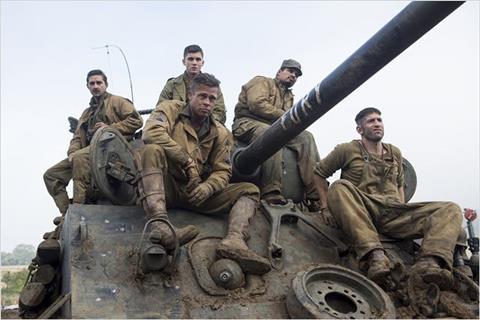 Having closed the BFI London Film Festival last week, Fury opened in style at the UK box office as it shelled Teenage Mutant Ninja Turtles off the top spot.
Sony's war drama blasted its way to a healthy $4.4m (£2.7m) bow from its 464 sites, including $1.1m (£700,000) in previews. It's worth noting that its Fri-Sun tally of $3.2m (£2m) would have also seen it land at number one.
The result means that Fury is already director David Ayer's best-ever UK performer, outgrossing End of Watch's $3m (£1.9m) result. It could be set for a strong holdover this coming week as counter-programming to Halloween's batch of horrors.
Also for Sony, The Equalizer is up to $10.8m (£6.7m) following a $217,000 (£135,000) fifth weekend.
PARAMOUNT
It may have slipped from the top spot, but Teenage Mutant Ninja Turtles enjoyed a solid second weekend of $3.1m (£1.9m).
Paramount's reboot is now up to $12.7m (£7.9m) and has become director Jonathan Liebesman's best-ever UK performer, surpassing Wrath of the Titans' $12.6m (£7.8m) final tally.
With a lack of direct competition, Teenage Mutant Ninja Turtles could prosper over this week's school holidays and potentially cross £10m by the weekend.
FOX
Falling a highly respectable 32% in its fourth weekend, Gone Girl charted third with $2.6m (£1.6m).
Fox's adaptation is now up to a terrific $27.5m (£17.1m) in the UK in its quest to first become David Fincher's best-ever UK performer (currently Seven's $31.4m/£19.5m) and then potentially the best-ever 18-rated performer, set earlier this year by The Wolf of Wall Street's $35.9m (£22.3m).
The Wolf of Wall Street stood at $28.7m (£17.8m) at the same stage in its run after also posting a $2.6m (£1.6m) fourth weekend. Gone Girl is currently the sixth highest grossing 18-rated film of all time in the UK.
Also for Fox, The Book of Life opened with a solid, if unspectacular, debut of $1.6m (£980,986) from its 537 sites. With no new family openings over the half term, the animation should thrive over the coming days.
The Maze Runner fell a slim 36% in its third weekend to claim an additional $1.5m (£905,314) for $9.4m (£5.9m) to date, while How to Train Your Dragon 2 flew again at the chart with a 66% boost seeing it add $183,000 (£113,620) for $39.8m (£24.7m).
WARNER BROS
Dropping almost 50% in its third weekend, Warner Bros' Annabelle scared up a further $1.2m (£749,000) for a sturdy $9.7m (£6m) to date. It could potentially enjoy good returns leading up to (and including) Halloween, but it's now unlikely to challenge The Conjuring's $16.9m (£10.5m).
Also for Warner Bros, The Judge fell heavily in its second weekend as it added $185,000 (£115,000) for $1.3m (£822,000), while This Is Where I Leave You recorded a soft $175,000 (£109,000) UK debut from its 222 sites for director Shawn Levy's lowest-ever opening.
DISNEY
Expanding to 457 sites nationwide, Disney's Alexander and the Terrible, Horrible, No Good, Very Bad Day grossed $918,000 (£570,000) for $1.1m (£700,000) to date.
If we were this weekend's gross as the 'opening', then it ranks behind Youth in Revolt ($1.2m/£743,932 from 280) in terms of director Miguel Arteta's UK debuts.
LIONSGATE
With $177,000 (£109,720) from previews, Love, Rosie posted a $777,000 (£482,535) UK debut from its 381 sites through Lionsgate.
Also for Lionsgate, What We Did on Our Holiday stands at $5.9m (£3.7m).
ICON FILM DISTRIBUTION
Landing one week ahead of Halloween, well-received horror The Babadook possessed $557,000 (£345,862) from its 147 sites through Icon Film Distribution. That marks a decent site average of $3,788 (£2,353) and good word-of-mouth should set it up for a fruitful Halloween period.
UNIVERSAL
As expected, The Boxtrolls is now Laika's highest-grossing outing at the UK box office. Universal's animation has now stacked up $12.4m (£7.68m) after taking $332,000 (£206,000) this weekend.
Also for Universal, Dracula Untold has bitten into $7.6m (£4.74m) after four weeks in play.
STUDIOCANAL
Serena landed with a meek $153,000 (£94,775) from its 184 sites through StudioCanal, missing out on being director Susanne Bier's best-ever UK opening which remains All You Need Is Love's $326,000 (£202,176) from 131 sites.
METRODOME
One of the performances of the weekend came from Metrodome's Bogowie with an excellent $146,000 (£90,623) debut from just 23 sites, recording one of the weekend's highest site averages at $6,348 (£3,940).
EONE
Falling over 80% in its second weekend, eOne's The Best of Me took a further $134,000 (£83,000) and has at least hit the £1m mark to stand at $1.7m (£1.04m).
MUNRO FILMS
Northern Soul followed up its record-breaking opening with a $156,000 (£96,717) second weekend from its 76 sites. Munro Films' music drama is now up to $819,000 (£506,960) in the UK.
Its first seven days saw Northern Soul gross just over $660,000 (£409,000) across 450 shows, resulting in a superb average by show of $1,464 (£908).
CURZON FILM WORLD
Released in 28 sites through Curzon Film World, Jimi: All Is By My Side grossed $39,000 (£24,008) on its UK bow.
DOGWOOF
Time Is Illmatic posted a confirmed UK debut of $19,000 (£11,989) from five sites through Dogwoof.
PECCADILLO PICTURES
The Way He Looks, Brazil's submission for Best Foreign Language Film at the Oscars, recorded a non-final UK bow of $5,100 (£3,151) from its six sites, mostly playing on split screens across the weekend.
UPCOMING RELEASES
This week sees saturation releases for Lionsgate's Horns (opens Oct 29), Universal's Ouija and eOne's Nightcrawler.
Signature's Extraterrestrial, Entertainment's The Necessary Death of Charlie Countryman, eOne's Mr. Turner, Artificial Eye's Citizenfour and eOne's re-release of The Woman in Black all receive wide releases.