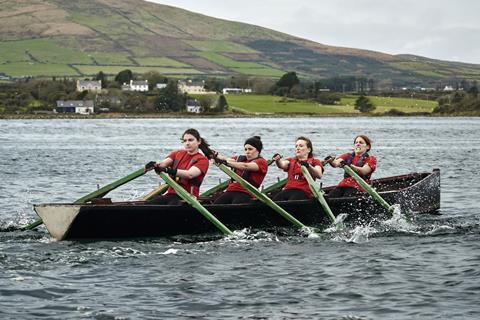 Declan Recks' Irish-language drama Tarrac! and Michael Kinirons' The Sparrow are among a raft of new Irish features set to receive their world premiere at Galway Film Fleadh (July 5-10).
The 34th edition of the festival will include 80 international features of which 20 are world premieres. The majority of these premieres will showcase new Irish cinema, with 18 out of the 32 Irish films in the line-up set to debut at the Fleadh.
They include Tarrac! in which a woman returns to her home on Ireland's Kerry coast and is pulled back into the competitive world of Naomhóg rowing. It marks the latest feature from the Cine4 initiative, which has produced Tom Sullivan's acclaimed Arracht, Seán Breathnach's Galway 2021 winner Foscadh and Colm Bairéad's sleeper hit The Quiet Girl .
Also set to premiere is The Sparrow, which follows a teenage boy in a remote fishing village, wrestling with guilt after he keeps the truth of a tragic accident a secret. It marks the feature directorial debut of Kinirons, who previously wrote Sundance 2015 drama Strangerland, starring Nicole Kidman and Joseph Fiennes.
The Sparrow stars Éanna Hardwicke, known for roles in drama series Normal People and Vivarium, who is one of nine nominees for the Fleadh's Bingham Ray New Talent Award. Hardwicke also stars alongside fellow nominee Danielle Galligan in Lakelands, in which he plays a Gaelic footballer who struggles to come to terms with a career-ending injury. It is directed by Robert Higgins and Patrick McGivney.
Documentaries set to screen at the festival include Sundance premiere Nothing Compares, about iconic Irish singer Sinéad O'Connor, Atomic Hope: Inside the Pro-Nuclear Movement and Gary Lennon's Piano Dreams, filmed in the competitive world of Chinese piano players.
MTV-produced doc Afghan Dreamers will also debut at the Fleadh alongside a Q&A with director David Greenwald. The film follows an all-girls robotics team from Afghanistan who work in secret under Taliban rule to prove they can have a future as more than just teenage brides.
The World Cinema strand features titles from 30 different countries. The Fleadh will close with Ukrainian feature Carol of the Bells, a period drama about survival amidst occupation in pre and post-Second World War Ukraine. It will be presented by director Olesya Morgunets-Isaenko and lead actor Yana Koroliova, who now lives in Ireland.
As previously announced, the world premiere of Emer Reynolds' Joyride, starring Olivia Colman, will open the festival on July 5.
Further talent set to attend include Phantom Thread actress Vicky Krieps, who will present Mathieu Amalric's Hold Me Tight, in which she plays a woman who abruptly abandons her family home – a role for which she was nominated for a 2022 César Award.
The Fleadh will also mark the 30th anniversary of Mike Newell's Irish family feature Into The West with a reunion including scriptwriter Jim Sheridan, director Newell and other key creative cast and crew.
Fleadh director of programming Will Fitzgerald noted that 32 of the selected films are from debut feature directors as they "strive to be a springboard for new talent, and to elevate diverse and emerging voices in cinema".