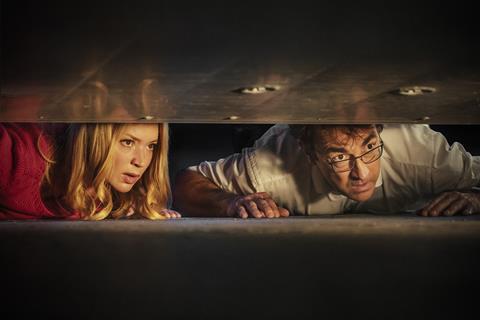 Gaumont has unveiled a raft of sales on Albert Dupontel's comedy Bye Bye Morons (Adieu Les Cons) which has had an unexpectedly strong week at the French box office in spite of rising Covid-19 restrictions across the country.
The film kicked off its French release amid a complex situation at the local box office on October 21, following the introduction of a 9pm to 6am curfew across much of France.
It generated 600,444 admissions, for a gross of around $4.7m, in its first week on release, which is the most successful opening week for a French film in 2020. It is also the best first week for any of Dupontel's films to date, including popular titles See You Up There and 9-Month Stretch.
"Such a performance is good in any climate, so we're particularly proud of the result at this time," said Alexis Cassanet, EVP international sales and distribution at Gaumont. "It also shows that people want to go to the cinema and find ways to do in spite of the restrictions."
Originally launched on the international market at last year's Cannes ahead of its shoot over the summer of 2019, the film has sold to a number of European territories.
They comprise Switzerland (Pathé), Benelux (Cinéart), Portugal (Nos), Poland (Galapagos), Bulgaria (Beta Film), ex-Yugoslavia (MCF), Spain (La Aventura), Sweden (Njuta) and Russia (Capella Film).
Other deals include to Taiwan (Proview Entertainment), China (Huanxi Media Group), Canada (AZ Films) and Israel (Nachshon).
Dupontel directs and stars opposite Virginie Efira, who plays a hairdresser on a quest to find the child she gave up for adoption as a teenager.
France first introduced its Covid-19 curfew in Paris and eight other major cities on October 17, the measure was extended to more than half the country on October 24.
After much deliberation, Gaumont Distribution decided to maintain the release of Bye Bye Morons on October 21, not knowing that the curfew measure was set to be extended. The company's decision to stand by the release was welcomed by France's some 2,000 cinemas which remain open against the odds but are crying out for new films.
French president Emmanuel Macron is due to announce new Covid-19 measures across the country on Wednesday evening (October 28) in response to a fresh surge in cases of the virus in spite of the measures in recent weeks.