EXCLUSIVE: New sequel to hit French time travel film starring Jean Reno and Christian Clavier set for 2016.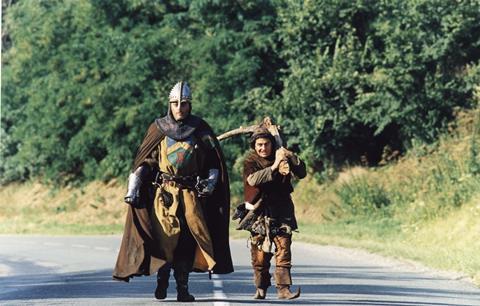 Some 20 years after Gaumont's comic time travellers Godefroy the Hardy and Jacquasse the Crass first touched down in 1990s France, they are set to hit the big screen again next year in The Visitors: Bastille Day.
Gaumont International will launch sales on the third instalment of the highly successful time travel franchise at Berlin's European Film Market (EFM) (Feb 5-13).
"The first two films were hits at home and also did well across Europe. We're expecting it to be one of our top-selling titles at the EFM," said Gaumont deputy head of sales Yohann Comte.
Popular French actor Christian Clavier, who is on a roll at the moment after the success of Serial (Bad) Weddings and Do Not Disturb, will reprise his role as Jacquasse the Crass, the uncouth servant of bumbling knight Godefroy the Hardy, played by Jean Reno.
The €25m ($28m) production, directed once again by creator Jean-Marie Poire, will transport the hapless anti-heroes back to the French Revolution.
The film, currently in pre-production, will be released in the first half of 2016. It is a co-production between Gaumont and Ouille Productions.
Franck Dubosc, Ary Abittan, Alex Lutz, Sylvie Testud, François Morel and Marie-Anne Chazel are also in the cast.
The original The Visitors topped the French box office in 1993 drawing some 20 million spectators and was distributed in more than 20 territories, including the US. In 1998, sequel The Corridors of Time: The Visitors II also did good business.
The series also spawned an English-language version in 2001, Just Visiting, starring Clavier and Reno alongside Christina Applegate and Tara Reid.
Gaumont will also kick off sales on Christian Vincent's Courted (L'Hermine), a tale of seemingly unrequited love between a tough criminal court judge and one of the jurors on a complicated case involving the death of a baby girl.
Danish Borgen star Sidse Babett Knudsen, also seen recently in Peter Strickland's The Duke of Burgundy, co-stars alongside Fabrice Luchini.
Like Vincent's last film Haute Cuisine, starring Catherine Frot as the cook of France's late President François Mitterrand, his new film goes behind the scenes of power and influence, to tell a personal story behind a public persona.
Luchini plays Xavier Racine, a feared criminal court judge, with a reputation for tough sentencing.
On the first day of a complicated court case, revolving around a man accused of kicking a baby girl to death, he is stunned to see a woman he has silently admired from afar for years, played by Knudsen, enter as one of the jurors.
The film, produced by Paris-based Albertine Productions (Gemma Bovary) is currently in post-production and is due for release in the second half of 2015.