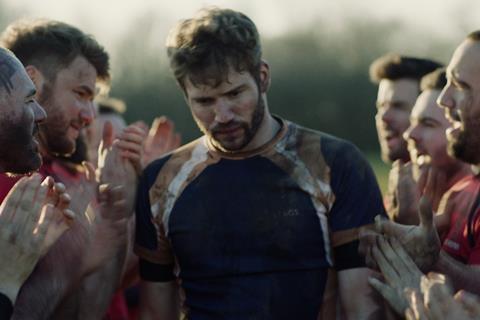 Gay rugby drama film In From The Side has scored a UK release deal, as one of several international sales for the film.
Verve Pictures will release the film theatrically in the UK later this year. Further deals are for France (Optimale), German territories and Benelux (Cinemein), Poland (Tongariro), Spain (Filmin) and Israel (Lev Cinemas). Producer and co-writer Adam Silver negotiated the deals directly with the distributors; negotiations are ongoing for further territories including North America.
Directed and co-written by Matt Carter, the independent UK film debuted at the BFI Flare: London LGBTQIA+ Film Festival in March. It follows two equally attached men from a cash-strapped and divided gay rugby club, who unwittingly sleepwalk into an adulterous affair.
Following its Flare debut, In From The Side has played at LGBT film festivals Frameline in San Francisco, and Inside Out in Toronto.
Making his feature directorial debut, Carter has previously worked as a visual effects artist on films including the Harry Potter series, and three episodes from Steve McQueen's Small Axe anthology.