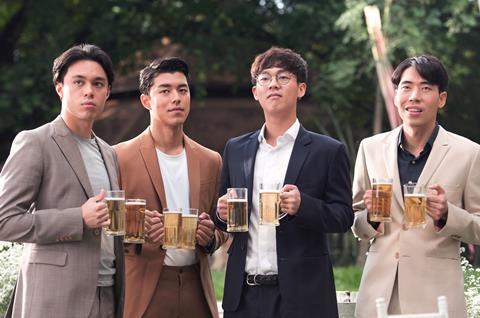 Thailand's GDH 559 has sold the Chinese-language remake rights of Friend Zone, the biggest Thai film in 2019, to China's Enlight Pictures at AFM.
The deal was concluded by GDH 559's Ruedee Pholthaweechai and Enlight Picture's Helen Xing.
After a successful February release in Thailand which grossed $7.3m, the romantic comedy rolled out theatrically in 18 territories, including North America, South Korea, Hong Kong, Taiwan, Australia, Southeast Asia and China where it took $7.4m.
Starring Naphat 'Nine' Siangsomboon and Pimchanok 'Baifern' Luevisadpaibul, Friend Zone is directed by Chayanop 'Mu' Boonprakob who wrote the script based on his experience as a flight attendant and stories he gathered about people who exist in that relationship space where they stay friends but have feelings for each other.
The story follows a flight attendant who has been stuck in 'the friend zone' with his best friend for 10 years, fearing that it could be the end of a friendship that started in high school if he declares his love for her.
GDH 559 is the Thai producer and sales agent behind phenomenon Bad Genius, the high-school heist thriller which became a blockbuster hit across Asia in 2017, taking $38.7m (at current exchange rates) in China alone.