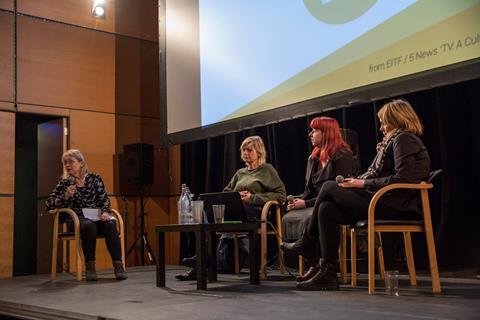 Glasgow Film Festival's industry activity this year may have been largely halted due to the extremely disruptive weather across the UK, but a small group of professionals already in the Scottish city braved the weather to get together for an energetic and insightful Time's Up-inspired talk.
The discussion, led by Kate Kinninmont, chief executive of Women in Film & Television UK (WIFTV), focused on potential solutions to the seemingly widespread and ingrained culture of sexual misconduct and bullying that is riddling the film industry.
Joining Kinninmont on the makeshift panel were Pin Cushion cinematographer Nicola Daley, Left Bank Pictures producer Lila Rawlings, an exec producer on Clio Barnard's recent Dark River, and film and TV producer Marie Schmidt Olesen.
Daley said that she had experienced bullying as she had risen the ranks from camera trainee to DoP, "Traditionally there has been a culture of the school of hard knocks - camera trainees get treated quite badly and when they rise up through the ranks they then think you should treat trainees like that. That kind of culture needs to be discussed."
At times, Daley added that she felt unable to report inappropriate behaviour because the sets she was working on had been entirely dominated by men. "Who was I going to talk to?" she asked.
Gender balance
A greater balance of women and men on film sets is required to tackle misconduct, agreed Lila Rawlings, who said that she had witnessed instances of bullying first-hand during her career. "Women are pretty well represented in producers and writers now - hopefully that will readdress the balance and tackle workplace bullying," she said.
Marie Schmidt Olesen also chimed in on a similar line. "What seems most relevant to me is getting underrepresented groups to come forward as creators and practitioners," she said. Olesen explained that she had experienced bullying and harassment in her professional life, but largely outside of her work in the film business.
"It's not just about our industry, it's about every industry where there are people abusing power. In our industry it tends to be men," added Kinninmont.
Daley noted that the number of men and women attending film school is fairly balanced, but that "as you go up the industry the fall off of women working is huge". She puts this down to a culture of attrition, in which "very talented women" are dissuaded from continuing this careers because of bullying.
"When you're a freelancer you can be in a world of isolation, joining groups like WIFTV or Illuminatrix [a collective of female cinematographers of which Daley is a member], that's really helpful. It's important that you're not just on your own," she continued.
Freelance problems
As has been pointed out regularly throughout this process of industry self-reflection, the freelance and often temporary nature of the film business has led to a knowledge gap when it comes to reporting instances of bullying and harassment. "A lot of people didn't know who they could speak to because there's no HR department when you're on a short term contract," Daley commented.
Following the revelation that WIFTV had been approached with more than 100 instances of harassment and abuse of power in a single month off the back of the Harvey Weinstein-led sexual abuse scandal, Kinninmont explained that the organisation has been focusing its efforts on creating clear and accessible avenues for reporting incidents.
WIFTV teamed with the BFI, Bafta, Bectu, Pact, the Production Guild, and the UK Screen Alliance to launch a series of principles and guidelines earlier this year that it hopes will assist the industry in governing best practice.
As part of that initiative, it was also announced that the Cinema and Television Benevolent Fund (CTBF), in partnership with the Production Guild and the BFI, is launching a 24/7 helpline that will offer free advice to victims of harassment and bullying in the UK.
For Kinninmont, she believes a sea change in the industry is coming. "I think it's on its way out, I don't think it's going to get worse. I have a lot of hope with the younger generation that are coming."
Rawlings also sees changing attitudes in the generations now entering the film industry. "Most of the young men and women I'm working with now are from a different planet with all this stuff," she concluded on an optimistic note.