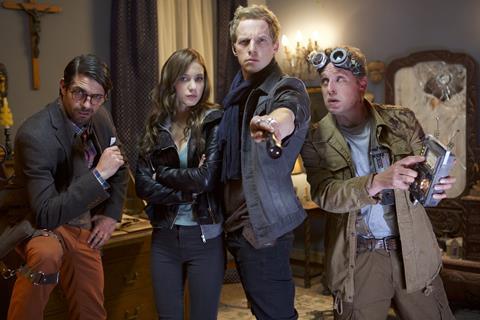 AMC Networks' genre streaming platform Shudder has acquired all rights across its territories to the horror-comedy Deadtectives.
Writer-director Tony West's feature debut tells of a team of hapless reality TV ghost-hunters who encounter actual paranormal activity while filming in the most haunted mansion in Mexico.
Facing the cancellation of their show and supernatural entities, the team must work out how to bust the ghosts, deliver the episode of a lifetime, and escape with their lives intact.
Chris Geere and Martha Higareda star, and Tina Ivlev, Jose Maria de Tavira, and David Newman round out the ensemble cast. The film received its world premiere at Sitges last year, and will also screen at Seattle International Film Festival, and Fantaspoa International Fantastic Film Festival in Brazil.
Shudder's Emily Gotto negotiated the deal with Michael Favelle for Odin's Eye Entertainment, which serves as executive producer on and represents worldwide rights.
"Some films make you laugh, some make you scream," said Gotto. "Deadtectives is the rare horror-comedy that manages to do both exceptionally well."
Favelle added, "Shudder is the perfect home for the picture. We are excited to reach an audience who we know will die for this razor-sharp supernatural comedy from the talented Tony West."
Jason Tamasco and Jerry Careccio produced Deadtectives for Bad Idea, alongside Daniel Posada and Samantha Castellano for Dark Factory Ent, in association with Little Maniac Productions and Charles M. Barsamian of Exit Strategy Productions. Matt Helderman and Luke Taylor of Bondit Media Capital served as executive producers on the film.