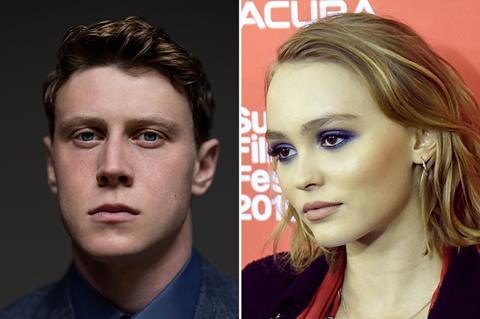 George MacKay and Lily-Rose Depp have signed to star in writer-director Nathalie Biancheri's Wolf, about a man who believes he is a wolf trapped in a human body. Shooting is due to begin in Ireland this April.
Bankside Films has taken worldwide sales rights to the film and will be introducing it to buyers at the European Film Market next week.
Biancheri's previous film Nocturnal starring Sadie Frost and Cosmo Jarvis premiered at the BFI London Film Festival last year.
"The inspiration comes from a real condition, species dysphoria, in which people believe they are an animal trapped in a human body," the filmmaker explained. "I wanted to depart from reality and take the film into an increasingly disturbing and violent microcosm where I could explore the meaning of the pressure to conform and how far we've departed from our basic instincts. The world of the film is colourful and perpetually ambiguous. Ultimately however it is Jacob's story and in the simplest form, a quest for personal freedom."
MacKay is presently on global screens starring in Sam Mendes' Bafta-award winning 1917, and his further credits include Pride, Sunshine On Leith and Justin Kurzel's upcoming True History Of The Kelly Gang. Depp recently appeared in The King and will next be seen in Neil Burger's Voyager and Nicholas Jarecki's Dreamland.
The project, to which Barry Keoghan was previously attached, is produced by Jessie Fisk of Feline Films in Ireland and executive produced by Jane Doolan. The co-producers are Mariusz Włodarski and Agnieszka Wasiak of Lava Films in Poland.
It is being backed by Screen Ireland, Eurimages and the Polish Film Institute with Celine Haddad serving as executive producer for Screen Ireland.
MacKay will play a young man whose distraught family send him to a clinic which specialises in the treatment of his disorder. Together with his fellow patients who all self-identify as another species, including Depp's enigmatic Wildcat, they are forced to undergo increasingly extreme forms of "curative" therapies at the hands of 'The Zookeeper'.
"Wolf is one of the most striking and original stories we have seen," Bankside's Stephen Kelliher told Screen. "It tackles important and timely themes including identity and self-determination with a vision that is unique yet highly relatable. Nathalie has created a wonderfully heightened world inhabited by the most compelling characters which will speak to audiences globally."
"Wolf was the starting point for Feline Films, we had this daring and truly special idea which was the very root of the material we wanted the company to produce," added Feline FIlms' Fisk.