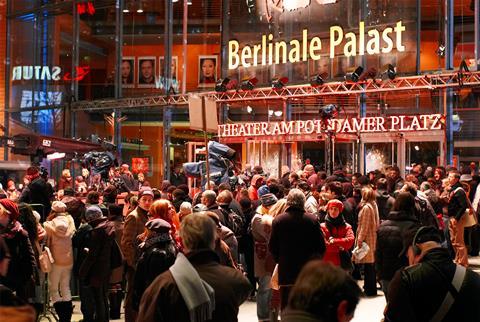 Update: Björn Böhning, head of Berlin's Senate Chancellery, and Mariette Rissenbeek, managing director of German Films Service + Marketing, have been picked as the two members of the selection committee to join State Minister for Culture and Media Monika Grütters in drawing up proposals for the future structure of the Berlinale and associated decisions regarding personnel. The decision was made at a meeting of the KBB supervisory board today (5 Dec).
Meanwhile, the present festival director Dieter Kosslick reaffirmed to the supervisory board today that he "will not be available for an executive position at the Berlinale" after his contract comes to an end on 31 May, 2019.
Original story: Germany's State Minister for Culture Monika Grütters has called for an "open, objective and constructive" debate on the future of the Berlin Film Festival, and outlined her strategy for finding a successor to current festival director Dieter Kosslick.
In an introductory statement to a discussion on film festivals in Berlin on Monday evening (Dec 4), Grütters said it was "necessary and legitimate to reflect on changes after so many years", especially as the Berlinale, like film festivals, has to adapt to changing viewing habits in the digital age.
It followed a furore over an open letter signed by 79 German filmmakers that called for an overhaul of the Berlin Film Festival.
She responded to "very different interpretations" and "serious misunderstandings" which have been circulating within the film community and in the German press about her alleged plans for finding Kosslick's successor.
"The rumour is false that we are looking for a German woman," Grütters said. "What is correct is that there hasn't been any prior decision made about a female or male successor."
She added: "The rumour is also false that the name of Dieter Kosslick has been set for a key position after 2019. Correct is that there isn't any prior decision taken on certain persons in whatever future management structure."
She said that it had also been "evidently misunderstood" as to what Kosslick will be submitting at today's (Dec 5) meeting of the supervisory board of the Kulturveranstaltungen des Bundes in Berlin (KBB) which oversees the Berlinale along with the Berliner Festspiele, House of the World Cultures and the Martin Gropius Bau.
Grütters explained that Kosslick's proposals for a future reorganisation of the Berlinale was "a discussion paper, and one of several" noting that it was sensible to "draw on existing expertise".
Regarding appointing a new Berlinale festival director, Grütter said that a selection committee would be drawn from the members of KBB supervisory board which include Björn Böhning, head of the Berlin State Chancellery, and Mariette Rissenbeek, managing director of German Films.
She said "external" film industry experts will submit proposals to KBB supervisory board members on the future structure of the festival.
Grütters added that she has been holding talks over the past few months "with relevant personalities, incidentally also on an international level" in the search for a successor to Kosslick from June 2019.
A decision on a new festival director will be made by the supervisory board next year, in time to give him/her sufficient time to make preparations for the 2020 Berlinale.
Controversial letter
Monday's event, which was attended by Berlinale staff as well as film directors, producers, programmers and film critics, came ten days after an open letter demanding changes to the festival was issued by 79 German filmmakers including Maren Ade to Volker Schlöndorff.
Their petition had been used by some as an opportunity to criticise how the Berlinale had developed under Kosslick's tenure.
Speaking ahead of Monday evening's event, Kosslick said he was frustrated that the letter had been used by certain factions in the press to launch an attack on the Berlinale.
He said: "The fact is: my contract comes to an end on 31 May 2019. But I am evidently already being buried at regular intervals by some people."