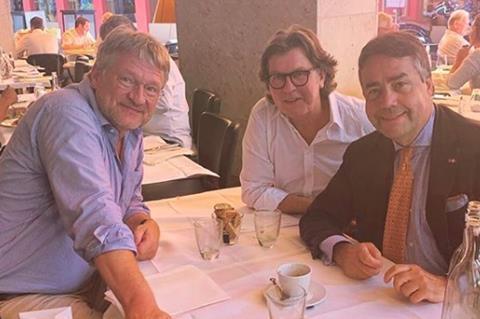 Hans Joachim Mendig, the CEO of Frankfurt-based regional film fund HessenFilm, has come under fire after a photograph emerged of him meeting with Germany's far-right Alternative for Germany (AFD) political party.
An Instagram post from Jörg Meuthen, the AFD's co-leader and a member of the European Parliament, depicting a meeting with Mendig and controversial public relations executive Moritz Hunzinger, was picked up on by executives in the German industry and shared widely on social channels.
The picture was accompanied by the caption: "Very lively and constructive political exchange of ideas today in Frankfurt" (translated from German).
Since then, several German executives have spoken to Screen calling for Mendig to step down.
Fabian Gasmia, a prominent German film producer who is shooting Leos Carax's musical Annette with Marion Cotillard and Adam Driver in Belgium, said that the meeting was a conflict and that he would no longer be applying to HessenFilm.
"This party [AFD] is basically a non-grata party," he explained. "It has a proven strong influence from neo-Nazis. Even though they're democratically elected, people from the culture and arts should not have lunches with them. They should discuss issues with them on panels and through the press, but not over lunch. It gives a strong sense that the head of the fund agrees with people in that party."
"As long as he's running the fund I will not ever apply to them," he stated.
Gasmia suggested as a government-backed organisation, HessenFilm has a remit to support cultural diversity in its region, an endeavour that clashed with the policies of the AFD.
The producer received backing from the HessenFilm fund for Mia Hansen-Love's 2016 Berlinale Silver Bear-winning drama Things To Come prior to Mendig joining the organisation. (He later applied for post-production funding for Annette when Mendig was in charge but was turned down.)
Gasmia said that many German film crew had taken to Facebook to explain that they would not work on HessenFilm-backed projects unless Mendig resigns. Those writing on the platform included filmmaker Julia von Heinz (I'm Off Then: Losing And Finding Myself On The Camino De Santiago) though she did not state that she wouldn't work with HessenFilm.
"Mendig needs to step down," TV producer Stefan Raiser of Munich-based Dreamtool Entertainment told Screen. His credits include the recently wrapped Second World War mini-series The Turncoat, directed by Oscar-winner Florian Gallenberger.
"[During filming the series The Turncoat] Polish people often questioned us how it is possible that, 80 years after Nazi Germany's invasion of Poland, right-wing nationalists are sitting in German parliaments again," Raiser continued. "I apologised and felt ashamed every single time. Mendig-like behaviours are paving their way [the far-right] to political power, in this case by meeting, chatting and smiling for the camera, making it all seem ok somehow. What he did is appalling and tremendously stupid at best. In his position as CEO of the Hessen Film Fund he can't declare this a private matter."
Screen spoke to several further German executives who asked to stay off the record, as they prefered to avoid commenting on politics, but they also expressed concern over Mendig's association with the AFD.
Alongside his role at the HessenFilm fund, Mendig is also a television producer whose credits include the long-running German TV series A Case for Two.
Projects backed by HessenFilm recently include the second series of German TV series Bad Banks, which airs on ZDF and ARTE.
AFD was founded in 2013 as an anti-European party, but has since shifted its focus to immigration and Islam, according to BBC News. In October 2017, the party won 12.6% of the vote in Germany and more than 90 seats in its parliament. Its politics have been compared to France's far-right National Front and Austria's far-right Freedom Party.
Meuthen, who is co-leader of the party, has been seen as more moderate than some of his fellow party members, but has still attracted criticism for remarks about immigration.
Hunzinger is also a controversial figure, having been criticised for comments made on Facebook in which he called refugees "savages", according to reports in the German press.
Mendig and the HessenFilm fund did not reply to a request for comment.