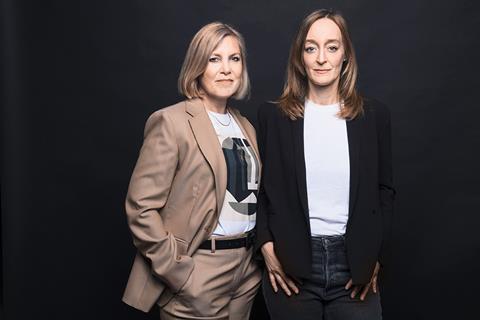 The German Film and Television Academy Berlin (DFFB) has appointed Catherine Ann Berger and Marie Wilke as its new executive management team, the first time in the institution's 55-year history that it will be headed up by two women.
Berger joins as managing director and Wilke as artistic director, with their five-year contracts starting on August 1.
The DFFB's advisory board, whose members include Medienboard Berlin-Brandenburg CEO Kirsten Niehuus and DETAiLFILM's Fabian Gasmia, co-producer of Cannes opener Annette, signed off on the duo last Friday (June 4).
Swiss-UK Berger was most recently the managing director of promotion agency Swiss Films from 2013 until the beginning of this year, while Wilke has been a writer-director on productions including feature Aggregat (2018) and documentary series Höllental (2021), as well as a lecturer at the Erich Pommer Institut, the Zelig Film School in Bolzano and the Film University Babelsberg Konrad Wolf.
In addition, Wilke had been a member of the selection committee for the DFFB's directing programme in 2019 and 2020.
The duo will be taking over from Sandra Braun who served as the DFFB's interim director from April 2020 to July 2021, during what the film school describes as "a very difficult time - in addition to the challenges of the Covid-19 pandemic".
Braun, who was instrumental in the decision to pivot to a dual leadership, had been in place since previous DFFB director Ben Gibson left in March 2020.
The decision to divide the artistic and business management between two people is similar to the model adopted by the Berlinale three years ago with the appointment of Mariette Rissenbeek and Carlo Chatrian, and also harks back to the DFFB's early days in 1966 when filmmaker Erwin Leiser and Heinz Rathsack were jointly responsible for running the film school's operations.
In addition to their respective roles, the two executive directors will also be jointly responsible for the overall strategy of the DFFB.
One of the future challenges for the duo could be organising the DFFB's move from its location in the Filmhaus at Potsdamer Platz since the lease on these premises is set to expire in 2025. A possible scenario could see the film school becoming part of a 'Media Campus' in Hangar 5 at the former Tempelhof Airport.
Other leading film academies in Germany already have women at the helm, such as Susanne Stürmer at the Film University Babelsberg Konrad Wolf, Bettina Reitz at the University of Television and Film (HFF) in Munich, and Nadja Radojevic at the international film school (ifs) in Cologne.