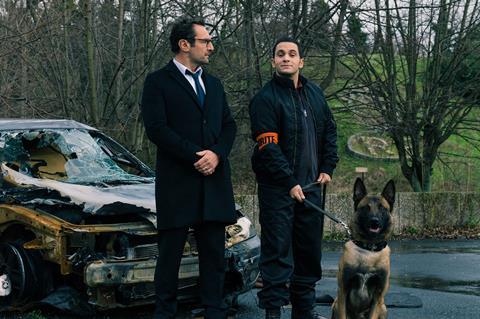 French director Mohamed Hamidi, whose 2016 breakout picture One Man And His Cow drew 1.3 million spectators in France and sold well internationally, has started shooting his latest comedy about a trendy communication agency forced to locate to a tough, no-go zone in an outer Paris suburb.
TF1 Studio will launch sales on the film – entitled New Biz In The Hood! (Zone Franche) - at the Unifrance Rendez-vous with French Cinema in Paris this week (Jan 18-22). The company has released an exclusive first image from the first week on set.
Nicolas Duval-Adassovsky at Paris-based Quad is producing alongside actor-producer star Jamel Debbouze under his Kissfilms banner. Directorial duo Eric Toledano and Olivier Nakache are also on board through their production company Ten Films.
Lellouche co-stars as Paris entrepreneur Fred Bartel who falsely claims his rising communication agency is situated in a tough Paris suburb to tap into tax breaks aimed at encouraging businesses into the area.
When tax inspectors turn up at the real offices in a trendy part of Paris and threaten to shut the agency down for fiscal fraud Fred is forced to move the company and its pampered, hipster staff to the wrong side of town from one day to the next as well as fill some of its posts out of the new location.
There, Fred meets Samy, a local wheeler-dealer with a heart of gold, played by comic actor Malik Bentalha (Pattaya, Taxi 5), who takes the entrepreneur under his wing and shows him around the neighbourbood.
The move has unexpected consequences as the agency and its new hires learn to work together and discover they have more in common than they expected.
Other cast members include Sabrina Ouazani and singer Camille Lou.
It is Hamidi's third feature film after One Man And His Cow, about an Algerian man who treks across France with his beloved cow Jacqueline to attend a prestigious agricultural fair in Paris, and Homeland, starring Debbouze as a France-raised law student who visits his father's native village in Algeria where a local man steals his identity papers.
New Biz In The Hood! shoots for eight weeks in and around Paris from January 15. French distributor Mars Films willrelease the title on behalf of TF1 Studio in early 2019.

Alongside launching this title, TF1 Studio will also screen a number of completed features at the Paris Rendez-vous including Lucien Jean-Baptiste's skiing holiday comedy Let It Snow which sold 400,000 tickets in France.
The slate also features Finding Mom (aka Momo), starring Christian Clavier and Catherine Frot as a couple whose lives are turned upside-down when a man shows-up claiming to be their son. It has drawn more than 500,000 spectators in its first three weeks on release by Mars Films in France.
The company is also screening Emmanuel Finkiel's Memoir of Pain, inspired by writer Marguerite Duras's experiences during World War Two, which premiered at San Sebastian. Les Films du Losange releases the film in France on January 24.