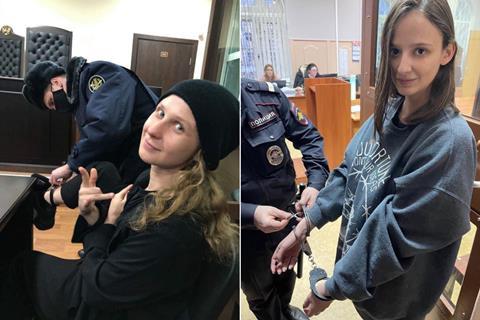 International film and TV professionals including actors Gillian Anderson, Martin Sheen and members of the European Film Academy (EFA) have called on the Russian government to drop all charges against two members of punk band Pussy Riot, as the pair's trial begins tomorrow (March 18).
Masha Alekhina and Lucy Shtein will appear in court in Moscow, accused of calling for a rally in support of political prisoners. They face up to two years in prison; the pair have been under house arrest for two months already, with the trial now extending that until the summer.
The case is based on an Instagram post made on Alekhina's account on January 22 this year, which responded to a loss of power in Shtein's apartment with the words 'Comrade Major, go fuck yourself, we have candles'.
Over 80 figures from across the arts have signed an open letter which states, "We condemn the persecution of peaceful demonstrators who according to numerous reports are currently being beaten, tortured, imprisoned and ill-treated for participating in rallies.
Persecution based on political opinion is unacceptable in any civilized society."
The letter will be submitted to the court ahead of the start of proceedings tomorrow.
As well as Anderson and Sheen, signatories include filmmakers Spike Jonze, Stephen Daldry, Paweł Pawlikowski, Pedro Almodóvar and EFA president Agnieszka Holland, plus actors James Norton, Whoopi Goldberg and Ed Harris.
The letter also has support from musicians including Peter Gabriel and Pink Floyd's Roger Waters, plus activist Mia Farrow and artist Marina Abramovic.
According to the EFA, the rules of Alekhina and Shteins' house arrest forbid them from leaving their flats, meeting people, using the internet, taking walks and visiting doctors, among other basic human rights.
The EFA reports that the approach is similar to that used for Russian director Kirill Serebrennikov, who missed the Cannes 2018 premiere of his film Leto while under house arrest, and was given a suspended sentence after being found guilty of fraud last year.
"Pussy Riot have been a major beacon of hope for democracy in Russia," said EFA chairman Mike Downey, "The courage of Masha Alekhina and Lucy Shtein to selflessly stand up for human rights in Putin's Russia is nothing short of heroic. Pussy Riot's defence of freedom fighters like Oleg Sentsov and Alexei Navalny is a crucial barrier in the defence of democracy."
Feminist protest punk rock group Pussy Riot has frequently clashed with the Russian government, including a 2012 performance inside Moscow's Cathedral of Christ the Saviour, which saw three members charged with hooliganism. The trial and sentence attracted international attention and criticism.