Animation features a voice performance from the late Christopher Lee.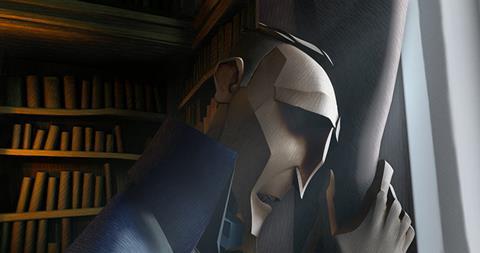 GKIDS has acquired North American rights to Extraordinary Tales, an animated film anthology of five of Edgar Allen Poe's best-known stories.
The film, which features the voices of Sir Christopher Lee (in one of his final film performances), Bela Lugosi, Julian Sands, Roger Corman, and Guillermo Del Toro, screens throughout this week at the Annecy International Animated Film Festival.
GKIDS plans a day-and-date release on October 30, in theaters and on video-on-demand platforms.
The deal was negotiated between Stephan Roelants for Melusine Productions and Eric Beckman for GKIDS.
The film, directed by Raúl García, features new takes on The Tell-Tale Heart, The Pit and the Pendulum, The Fall of the House of Usher, The Facts in the Case of Mr. Valdemar, and The Masque of the Red Death.
The animation is inspired by sources from classic Hollywood black-and-white monster films to the pulp feel of EC Comics.
Producer is Stephan Roelants and co-producers are Raúl García, Rocio Ayuso, Serge Ume and Isabelle Truc.