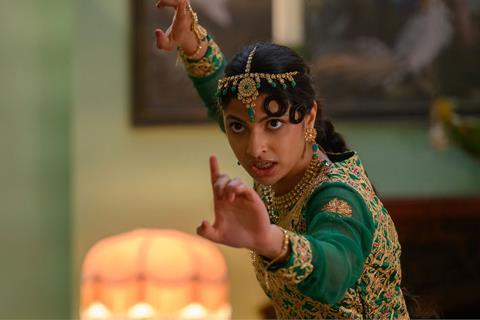 Glasgow Film Festival (GFF) has unveiled the full line-up for its 19th edition, taking place March 1-12, with the UK premiere of Nida Manzoor's Sundance title Polite Society the closing night film.
The festival will screen 123 features, including six world premieres, 16 European and international premieres and 70 UK premieres.
Polite Society is the feature debut of Screen Star of Tomorrow 2021 Nida Manzoor, who created Channel 4 and Peacock series We Are Lady Parts.
Her first feature is an action comedy about an aspiring stuntwoman who tries to wreck her older sister's wedding day in the name of freedom and sisterhood. Priya Kansara, Ritu Arya, Shobu Kapoor, Ella Bruccoleri, Seraphina Beh, Shona Babayemi, Nimra Bucha, Jeff Mirza and Akshay Khanna star. Working Title's Tim Bevan and Eric Fellner are producing with Parkville Pictures' Olivier Kaempfer.
As previously announced, the festival will open with the UK premiere of Adura Onashile's Glasgow-shot feature debut Girl.
World premieres include I Am Weekender, Chloé Raunet's exploration of Wiz's controversial and banned 1992 film about the UK acid house scene, featuring a host of talking heads including Bobby Gillespie and Irvine Welsh. Plus, there's Cassius X: Becoming Ali, a feature documentary supported by Screen Scotland and directed by Muta'Ali Muhammed, about boxer Muhammed Ali's life story, featuring archive footage and comment from those close to him, including girlfriend Dee Dee Sharp and Malcolm X's daughter Attallah Shabazz.
Scroll down for the GFF world premiere line-up
European and international premieres include Sean Garrity's romantic comedy The End Of Sex, that premiered at Toronto and stars Schitt's Creek and The Rig star Emily Hampshire.
Audiences across the UK will get a chance to watch two Glasgow Film Festival UK premieres, as Danial Goldhaber's climate crisis activism thriller How to Blow Up A Pipeline and Léa Mysius's French family drama The Five Devils screen at both Glasgow Film Theatre and cinemas in cities including Belfast, London, Manchester, Edinburgh, Bristol and Cardiff.
FrightFest at Glasgow will also run from March 9-11, featuring Jalmari Helander's Sisu, the world premiere of Matthias Hoene's Little Bone Lodge, Rhys Frake-Waterfield's Winnie-the-Pooh: Blood And Honey and closing with Jacobo Martínez's 13 Exorcisms.
The only award handed out at GFF is the audience award, given to an outstanding feature film by a first or second time director, and is chosen by the audience. Last year's winner was Lizzie MacKenzie's documentary The Hermit Of Treig. This edition's shortlist includes Alauda Ruiz de Azúa's debut, mother-daughter drama Lullaby, a feature described by Pedro Almodóvar as "the best debut in Spanish cinema in years". As previously announced, Spain is this year's GFF country in focus.
This year is Allan Hunter's final edtion as co-director. Allison Gardner, co-director and CEO of Glasgow Film Theatre, will carry on in the post. Plans for Hunter's replacement are being worked out. "We haven't really thought that far ahead," said Gardner, who also teased the possibility of restructuring the festival's leadership model to give more of a voice to "young up-and-coming curators".
Gardner is not concerned by last year's collapse of fellow Scottish festival, the Edinburgh International Film Festival (EIFF). "We are a different model from Edinburgh. I have been really strict over the years with how we spend our budget," she said. "We are in a good place."
GFF world premieres
I Am Weekender dir. Chloé Raunet
Dog Days dir. James Price
The Freedom Machine dir. Jo Reid
Cassius X: Becoming Ali dir. Muta'Ali Muhammed
Little Bone Lodge dir. Matthias Hoene
in the house of names dir. Sulaïman Majali
Audience award shortlist
Lullaby dir. Alauda Ruiz de Azúa
I Like Movies dir. Chandler Levack
Miss Viborg dir. Marianne Blicher
Lakelands dir. Robert Higgins, Patrick McGivney
The Ordinaries dir. Sophie Linnenbaum
Ramona dir. Andrea Bagney
Riceboy Sleeps dir. Anthony Shim
Punch dir. Welby Ings
The Astronaut dir. Nicolas Giraud
Skin Deep dir. Alex Schaad