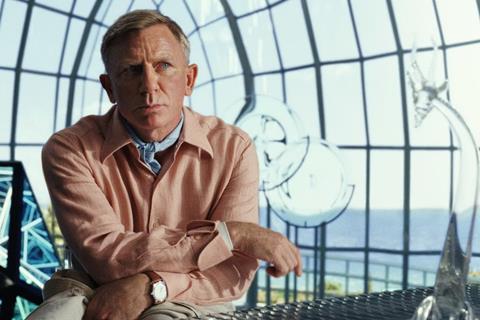 Netflix's Glass Onion: A Knives Out Mystery has scored the streamer's biggest theatrical release in North America, generating an estimated $13m in approximately 600 venues in its first five days, according to reports.
The streamer's week-long preview of the Knives Out follow-up directed by Rian Johnson and starring Daniel Craig marks the first time a Netflix film has screened in North America's three leading circuits of AMC, Cineworld-owned Regal, and Cinemark.
Netflix is understood to have offered exhibitors unusual terms, taking between 35%-40% of the opening weekend ticket sales, compared to the industry norm of 50% for distributors, rising to 60% for major tentpoles. The streamer paid around $450m in March 2021 for two follow-ups to Knives Out.
Box office is forecast to reach $15m by Tuesday, when Netflix, which declines to report box office, will remove the murder mystery from cinemas ahead of the December 23 debut in the platform. At that time exhibitors will get the choice to screen the film again.
Over the three-day weekend Glass Onion is reported to have grossed an estimated $9m which would have placed it third in a dismal Thanksgiving weekend that saw Black Panther: Wakanda Forever stay top on $45.9m over three days and $64m over five for $367.7m after three weekends, followed by Disney animation Strange World, which flopped on $11.9m for an $18.6m five-day opening, and Sony opener and wartime drama Devotion on $5.9m over three and $9m over five days.
Netflix is losing significant potential box office by not keeping Glass Onion in theatres. The first film opened over Thanksgiving 2019 on $41.4m over five days and $26.8m over three, although comparisons are somewhat specious as that was a fully-fledged pre-pandemic theatrical release by Lionsgate in close to 3,500 cinemas. However the streamer has given no indication it will alter its strategy and co-CEO Ted Sarandos reiterated in the recent Q4 earnings call the importance of keeping subscribers happy by bringing films to the platform.
What is certain is Glass Onion represents the best theatrical release of a Netflix film. By comparison the platform's most-watched film, Red Notice starring Ryan Reynolds, Dwayne Johnson and Gal Gadot, earned around $1.5m over a three-day weekend.
Neon opened Laura Poitras's documentary All The Beauty And The Bloodshed in three sites for an excellent estimated $42,532 over five days for the Venice Golden Lion winner.
Universal expanded Steven Spielberg's The Fabelmans in its third weekend from four to 638 sites and the semi-autobiographical drama added $2.22m for $3.4m to rank seventh. UAR's Bones And All expanded from five to 2,727 in its second weekend and grossed $2.2m for $3.7m, ranking eighth.
Searchlight Pictures' The Menu ranks fifth after a $5.2m haul boosted the tally to $18.7m after two. Neon's Palme d'Or winner Triangle Of Sadness ranks 17th and stands at $4m after eight weekends through Neon, while Tár in 19th place stands at $5.1m after eight sessions via Focus Features.
A24's drama The Inspection ranks 18th in the North American charts on $173,793 after two weekends and stablemate Aftersun in 20th place has amassed $790,994 after six. Jerzy Skolimowski's Polish Oscar submission EO ranks 23rd on a solid $50,752 in two venues via Sideshow Releasing after two sessions.