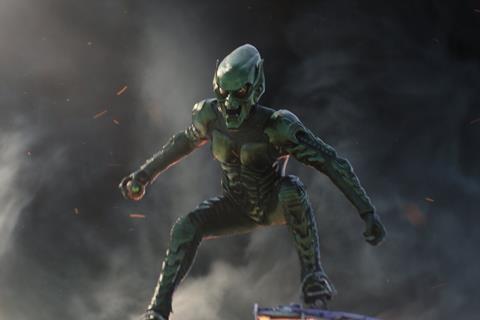 Worldwide box office January 28-30
| Rank | Film (distributor) | 3-day (World) | Cume (World) | 3-day (Int'l) | Cume (Int'l) | Territories |
| --- | --- | --- | --- | --- | --- | --- |
| 1. | Spider-Man: Far From Home (Sony) | $32.1m | $1.7bn | $21.1m | $1bn | 64 |
| 2. | Sing 2 (Universal) | $22.2m | $267.9m | $17.4m | $133.4m | 64 |
| 3. | Scream (Paramount) | $13.8m | $106.2m | $6.5m | $44.1m | 56 |
| 4. | Nightmare Alley (Disney) | $6.6m | $22.9m | $6.1m | $12.6m | 42 |
| 5. | The King's Man (Disney) | $5.9m | $114.4m | $4.2m | $80.4m | 47 |
| 6. | Fireflies In The Sun (various) | $4m | $174.8m | $4m | $174.8m | 1 |
| 7. | Embrace Again (various) | $3.8m | $145.8m | $3.8m | $145.8m | 2 |
| 8. | Belfast (Focus) | $3.2m | $15.9m | $3.1m | $8.7m | 4 |
| 9, | The Pirates: The Last Royal Treasure (various) | $2.9m | £3.1m | $2.9m | $3.1m | 1 |
| 10. | House Of Gucci (Universal) | $2.5m | $142.4m | $2m | $89.5m | 37 |
Credit: Comscore, all figures estimates, click top right to expand
'Spider-Man: No Way Home' tops global chart for seventh straight week
Sony's Spider-Man: No Way Home may no longer be quite the runaway winner at the global box office – second-place Sing 2 is not so far behind in weekend takings – but nevertheless topped the rankings for a seventh week in a row. The webslinging adventure added an estimated $32.1m to its tally, pushing the global total to $1.74bn.
In international markets, No Way Home pushed past the $1bn barrier – becoming only the 10th film ever to do so – and fell just 26% in holdover markets. Add in the North America total, and the $1.74bn global box office is the sixth biggest of all time.
All five films ahead of No Way Home in the global rankings – Avatar, Titanic, the final two Avengers films and the seventh Star Wars – have grossed more than $2bn, so the Peter Parker movie has a long way to go to climb any further up the lifetime chart.
No Way Home is now the top-grossing superhero title of all time in 19 countries, including major market UK/Ireland, where it has hit $120.1m, and Mexico, with $74.4m.
Sony will be hoping that the affection for actor Tom Holland will give an extra boost to its long-in-development action adventure Uncharted, which begins its international rollout into select markets next week (from February 10), ahead of the North America release on February 18. Uncharted is based on the PlayStation videogame series that began in 2007 with Uncharted: Drake's Fortune.
UK/Ireland release pushes 'Sing 2' up global ranking
Universal's Sing 2 rose from third to second place in the global box office chart for weekend takings, knocking aside Paramount and Spyglass Media's Scream – in no small degree thanks to the animated sequel's arrival in UK/Ireland cinemas.
Sing 2 grossed an estimated $9.3m for the three-day weekend period (January 28-30) in UK/Ireland – the biggest animated opening of the pandemic by far, and the third biggest opening since 1917 landed in the pre-pandemic January 2020. (No Time To Die and Spider-Man: No Way Home are the only two titles since then to open bigger in the territory.)
The weekend saw Sing 2 gross an estimated $17.4m in international markets, and $4.8m in North America, combining for $22.2m. Cumulative totals are respectively $133.4m and $134.5m, combining for $267.9m – the biggest total for a US studio animation in the pandemic era.
Among holdover markets, Germany fell just 4%, and has reached $5.1m after two weekends of play. France fell just 8%, and has reached $18.0m after six weekends. In cumulative totals, other top markets are Australia ($12.6m), Russia/CIS ($12.5m) and Mexico ($12.3m).
'Belfast' enters global top 10 chart
Also for Universal, Kenneth Branagh's awards contender Belfast has landed in the global weekend chart in eighth place, thanks to a very strong hold in its debut market, UK/Ireland, plus arrival in Spain and Greece.
Universal is estimating $3.2m for the three international markets and $120,000 in North America, where the film re-expanded to 196 cinemas. Weekend estimated total is $3.3m, taking the cumulative total to $16.0m: $7.2m in North America, and $8.8m for international.
Since Belfast has so far landed in only three international territories, it looks likely that the international total is going to far outpace North America, where the film is now in its 12th week of release. Next key market to open the film is Australia, this Thursday (February 3), with Germany and Italy later in the month.
'Scream' passes lifetime tally of 'Scream 4'
The conventional wisdom that horror films and sequels tend to show relatively rapid box office erosion is being contradicted by a sustained performance for Paramount and Spyglass Media's Scream.
The fifth film in the Scream franchise dropped just 38% in international holdover markets at the weekend, and 40% in North America. Cumulative takings are $44.1m for international, $62.1m in North America, and $106.2m worldwide – thus overtaking the $97.2m global lifetime total of 2011's Scream 4.
However, the Scream reboot/sequel still has a long way to go to catch the first three titles in the series, which range from $162m to $173m.
Yet to open for Scream are the Netherlands and the Philippines, which both welcome the film this coming weekend.
'The Pirates: The Last Royal Treasure' scores hit in Korea
South Korea is enjoying a local hit with the release of The Pirates: The Last Royal Treasure, also known as The Pirates: Goblin Flag. Billed as a "spiritual sequel" to 2014 hit The Pirates, the action adventure began last Wednesday, January 26, coinciding with the Korean New Year holiday, and grossed an estimated $3.1m according to Comscore.
The film is already the second-biggest local hit of 2022, behind The Policeman's Lineage, which has clocked up $5.5m since releasing on January 5.
Kim Jeong-hoon (The Accidental Detective) directs, with a cast led by Kang Ha-Neul, Han Hyo-joo and Lee Kwang-soo. The Lotte Entertainment release tells the story of sea pirates searching for a lost royal treasure.