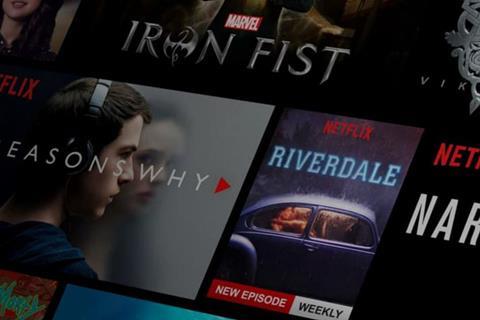 Over $100 billion of investment is flowing into production and licensing of content annually, according to a new report, The Global Production Deluge, previewed in Berlin today (Feb 23) by Olsberg SPI.
Much of that is being driven by the streamers – not just Netflix (which spent $17bn on content in 2019) but also Amazon, Disney, HBO, Apple, Comcast and others.
Worldwide spending on non-sports content was estimated by Ampere Analysis to be $123 billion in 2018, a 29% increase from $95 billion in 2013. A further rise of 26% over the next five years is forecast.
Leon Forde, MD of Olsberg SPI, revealed some of the report's findings at the Drowning In Numbers event in Berlin. The report and the panel were commissioned by Film i Väst, in co-operation with Göteborg Film Festival's Nostradamus project, and in association with Cine-Regio.
That panel discussed how the content boom represents big opportunities for creators but also creates challenges in many areas of the industry: capacity for workforce and infrastructure (including studio space), and questions about who controls the IP rights to all that content.
Feature films are being surpassed by episodic work. For instance, Netflix alone debuted 371 new original shows and films in 2019 – more than the entire television industry did in 2005.
The report also stresses the need for public funders to be more strategic in the future."The onus is on film funds to think more strategically in terms of supporting and developing talent," the report said.
Tomas Eskilsson, head of strategy at Film I Vast, said on the panel after the report presentation: "The whole industry benefits from a strong feature film industry in our own countries, in our own languages, the only way is for public funders to form stronger alliances with other players. And to make decisions much faster than before."
For independent, cinematic feature films to make an impact in this content deluge, Zentropa producer Louise Vesth (The House That Jack Built) said at the panel: "It's not enough to make just a kitchen table drama about a man and a woman. It needs to have a bigger story or a bigger signature from an artist."
The full report will be available this week at Filmivast.com.