Teona Strugar Mitevska's God Exists, Her Name Is Petrunya and Agnieska Holland's Mr Jones have entered Screen's Berlin jury grid, with the former achieving the better scores of the two.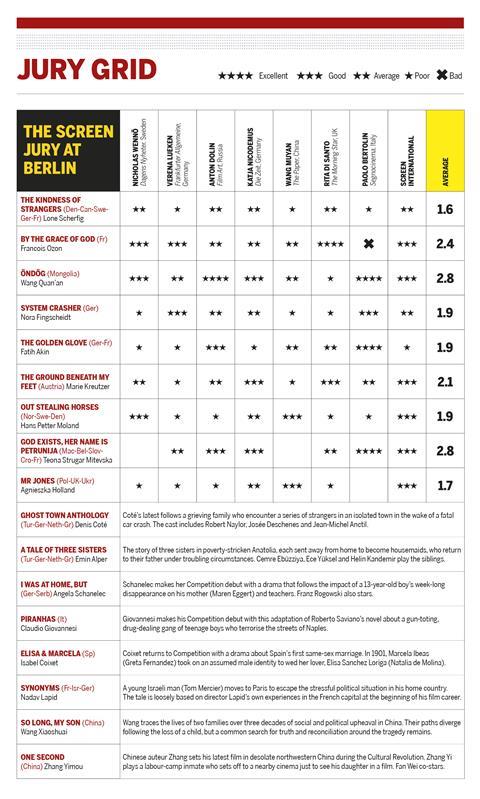 God Exists currently sits joint top of the grid alongide Wang Quan'an's Öndög with a 2.8 average, although God Exists has two scores to come which are likely to separate the films. It achieved a mixture of twos and threes, with Paolo Bertolin of Segnocinema giving it top marks of four (excellent).
The film is a drama about a woman who causes a stir when she joins in a traditionally male-only ceremony – diving into the river to retrieve a woodern cross thrown in by the local priest.
Agnieska Holland's Berlinale return Mr Jones struggled with the jury critics to an average of 1.7, with one score still to come. Its four 1s (poor) are a joint high for the grid so far this year, although it did slightly better with a two (average) from Die Zeit's Katja Nicodemus and threes (good) from The Paper's Wang Muyan and Screen's own critic.
Starring Screen Star of Tomorrow 2013 James Norton, the film tells the true story of Welsh journalist Gareth Jones, who broke the news of the deadly famine in Ukraine in the 1930s. Fellow Screen Star Vanessa Kirby and Peter Sarsgaard co-star.
Next up on the grid are Denis Coté's Ghost Town Anthology, about a grieving family who encounter a group of strangers in an isolated town; and Emin Alper's A Tale Of Three Sisters.