Fences, Sully and Silence were all snubbed, but there was good news for Deadpool and Mel Gibson.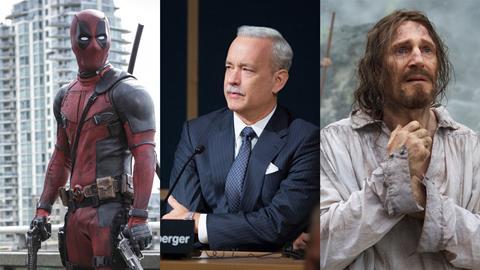 The 2017 Golden Globe nominations were announced today (December 12) with La La Land and Moonlight unsurprisingly leading the pack.
Read the full list of Golden Globe nominations here.
However, as always there was some shocks and snubs in the HFPA's list, such as…
Fences snubbed
Denzel Washington will be feeling hard done by after his adaptation of August Wilson's play was snubbed in the best picture and best director categories. Washington did make the cut for best actor however, and Viola Davis is surely favourite for best supporting actress.
Nothing for Sully
With Clint Eastwood directing, Tom Hanks starring and the real-life subject matter (the heroic pilot Chesley Sullenberger), Sully seemed like a dead cert for some award nominations this year, but Globe voters completely ignored it.
Deadpool in the mix
Ryan Reynolds' R-rated Marvel adaption was an unlikely awards contender when it was released back in February, but it amazingly it landed best picture and best actor (musical or comedy) nominations. Reynolds deserves special praise for his many years battling to bring his vision of the character to the big screen.
Silence for Silence
A strange one this. Perrenial award-nominee Martin Scorsese's religious epic Silence was snubbed across the board, which is a major surprise. It was definitely screened in time, but despite the mostly gushing reviews that dropped over the weekened (Screen International called it "powerfully moving and thought-provoking", for example), the HFPA were not keen.
Mel Gibson's comeback
After years in the Hollywood doghouse, Mel Gibson is back. Hacksaw Ridge, his biopic about the famous WW2 pacifist medic Desmond Doss was nominated for best picture, best actor (for star Andrew Garfield) and best director for Mel himself. It seems unlikely, but what a moment it will be if he wins.
The best picture - drama category in general
This category is fairly surprising in all sorts of ways. Manchester By The Sea, Moonlight and possibly Lion were expected to be there, but Hacksaw Ridge and Hell And High Water probably weren't, especially when you consider the films that were left out; Nocturnal Animals (Tom Ford even got a best director nod), Arrival, Fences and Silence.