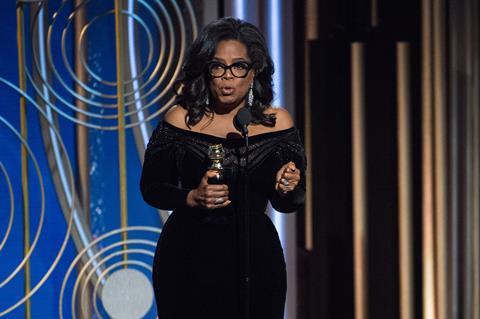 Oprah Winfrey made the most memorable speech at this year's Golden Globes.
Taking the stage after becoming the first black woman ever to win the Cecil B DeMille lifetime achievement award, Winfrey spoke powerfully about racial politics, sexual abuse and press freedom.
Firstly, referencing attacks on the press, she said: "We all know that the press is under siege these days, but we also know that it is the insatiable dedication to uncovering the absolute truth that keeps us from turning a blind eye to corruption and injustice, to tyrants and victims and secrets and lies. I value the press more than ever as we try to navigate these complicated times."
Winfrey, who received several standing ovations throughout her speech, then spoke about the abuse scandals that have been plagued Hollywood in the past year. She said: "Speaking your truth is the most powerful tool we all have, and I'm especially proud of all the women who have felt strong enough and powerful enough to speak out with their personal stories.
"Each of us in the room are celebrated because of the stories we tell, and this year we became the story. But this is not just a story affecting the entertainment industry, it's one that transcends any culture, geography race, religions, politics or place, so I want to express gratitude to all the women who have endured years of abuse, because they, like my mother had children to feed, bills to pay and dreams to pursue. They are the women whose names we'll never know."
Winfrey then referenced Recy Taylor, a black woman who was gang-raped by six men in 1944. Despite confessing the men were never charged of the crime.
"Recy Taylor died 10 days ago," Winfrey said. "She lived too many years in a culture broken by brutally powerful men. For too long Women were not believed if they dared to speak their truth to those men, but their time is up."
"I want all the girls watching here, now, to know that a new day is on the horizon!" Winfrey finished. "And when that new day finally dawns, it will be because of a lot of magnificent women, many of whom are right here in this room tonight, and some pretty phenomenal men, fighting hard to make sure that they become the leaders who take us to the time when nobody ever has to say 'Me too' again."