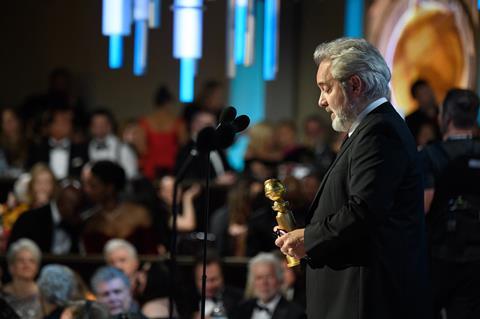 In a triumphant night for traditional studios and distributors and one to forget for Netflix, Once Upon A Time… In Hollywood and 1917 claimed the two top Golden Globe film awards.
Sony's best musical or comedy winner Once Upon A Time… In Hollywood emerged with three awards on Sunday (January 5) after Brad Pitt earned a second career Globe in the best supporting actor category and Quentin Tarantino took the third of his career in the screenplay contest.
Universal's First World War best drama winner 1917 emerged with two wins at the Hollywood Foreign Press Association's (HFPA) 77th annual ceremony after Sam Mendes was named best director for 1917. "There is not one director in the room, in the world, that is not in the shadow of Martin Scorsese," said Mendes, referring to his fellow nominee.
Netflix started the night with 17 film nods and 34 overall including TV and emerged with only two courtesy of Olivia Colman's win for The Crown and Laura Dern's popular victory in the supporting actress category for Marriage Story, which had been in the running for six awards, more than any other film. Martin Scorsese's $150m-plus The Irishman did not win anything, and one can expect Netflix chief creative officer Ted Sarandos and his cohorts to redouble their efforts as they shift the focus solely to their ongoing search for a first best picture Oscar win.
The big studio winners, on the other hand, will hope to leverage Sunday's victory into further awards season glory. Oscar voters will be watching as they ponder their nomination selections before the Tuesday deadline. Accepting his award, Pitt thanked Sony motion picture group chairman Tom Rothman for his "big balls" in signing on to Tarantino's ninth – and very long – film. Show host Ricky Gervais, in his fifth stint as emcee, quipped: "Leonardo DiCaprio attended the premiere and by the end his date was too old for him. Even Prince Andrew was like, 'Come on, mate, you're nearly 50, son."
Confirming their status as Oscar frontrunners, Renée Zellweger was anointed best dramatic actress for Pathé's Judy (distributed in the US by Roadside Attractions and LD Entertainment) and Joaquin Phoenix collected the best dramatic actor honour for Warner Bros' The Joker.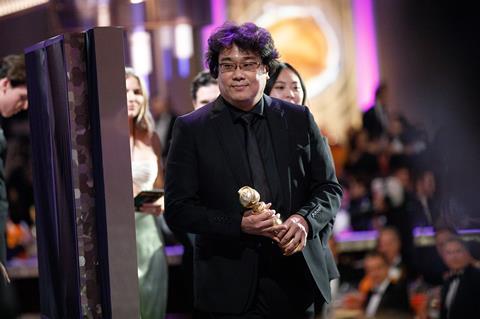 Bong Joon Ho's acclaimed South Korean dark comedy Parasite was named best foreign language film. "Once you overcome the one inch-tall barrier of subtitles," Bong said through his by now recognisable interpreter who has herself drawn publicity for her language talents and speed of translation, "you will be introduced to so many more amazing films… We use only one language – cinema. Thank you." Parasite was one of two wins on the night for A24 along with Awkwafina's popular best actress for a musical or comedy win for The Farewell.
Taron Egerton took the corresponding musical or comedy actor award for Rocketman, in a good night for Paramount's Elton John biopic. Earlier in the evening, John and his longtime songwriting partner Bernie Taupin took to the stage to collect the award for best song in a motion picture for 'I'm Gonna Love Me Again' in Rocketman. The British performer remarked how this was the first time he has ever won a joint award with Taupin.
Missing Link from Laika delivered the only true shock in the film categories as it beat Toy Story 4 and Frozen II to claim animated feature glory. In a second Globe for Warner Bros' R-rated $1bn smash, Hilda Guonadottir collected the best score Golden Globe for her work on The Joker.
Except for a late remark about Harvey Weinstein, whose criminal trial on sex offence charges begins in New York on Monday, Gervais' performance as emcee never matched the shock value of 2011 when he unleashed memorable risqué jibes aimed at box office flop The Tourist, Tom Cruise, Mel Gibson, and Hugh Hefner.
However the British comic started the night in good form. His hit list included Felicity Huffman, Hollywood hypocrisy, the disgraced late financier Jeffrey Epstein, and a warning to entertainment executives that investigative journalist Ronan Farrow is coming for them.
Gervais, who appeared genuinely bored throughout the show after his opening monologue, called Joe Pesci Baby Yoda and regularly fell foul of NBC's live broadcast moderators. At one point appeared to tell Hollywood to accept their awards and "get the f**k off the stage". He was also bleeped out when he spoke about box office flop Cats and reeled off a joke about Judi Dench licking a part of her body that drew incredulous gasps from the audience.
In the TV categories, a flustered Olivia Colman collected her third career Globe when she received the best television series dramatic actress Golden Globe for The Crown and intimated she felt like an imposter. "For the last year I feel I've lived someone else's life," said Colman, referring to her famous Oscar win for The Favourite last year, "and now I definitely feel I've won someone else's award."
Fleabag won two Globes. Phoebe Waller-Bridge won her first Globe for best television series musical or comedy actress and the show was later named best musical or comedy. "This really comes down to Andrew Scott [her co-star who played the priest and love interest in the second season]," Waller-Bridge said.
HBO's Succession earned two Globes for best dramatic TV series and best television series dramatic actor for Brian Cox in recognition of his portrayal as fictitious media mogul Logan Roy. Cox paid tribute to showrunner Jesse Armstrong as a "genius".
It was a good night for HBO. Stellan Skarsgård won best supporting actor in a series, limited series, or TV movie for Chernobyl, which was also named best limited series or TV movie. On stage, star Jared Harris to take a playful swipe at Gervais when he said, "See Ricky, it's not all about Netflix." The riposte came after Gervais (whose Netflix show After Life is getting a second season) noted in his opening monologue that Netflix would sweep the night and criticised cinema for its general lack of originality.
In the first award of the night, Ramy Youssef won best television series musical or comedy actor for Ramy. This was followed by a win for Russell Crowe as best actor in a limited series or TV movie for The Loudest Voice. Crowe did not attend the show and was with his family in Australia during the devastating fires.
Patricia Arquette claimed her third career Globe for best supporting actor in a series, limited series, or TV movie for The Act. Arquette, known for her impassioned speeches, urged people to vote in the 2020 US presidential election and decried Donald Trump's recent escalation of tensions with Iran.
Michelle Williams won best actress in a limited series or TV movie for her role in Fosse/Verdon. Williams urged women to vote at the 2020 election when she said, "We are the largest voting body in this country. Let's make it look more like us."
While Netflix fell short of expectations, other streaming platforms made some noise. Amazon Studios and BBC's Fleabag earned two, Hulu got on to the roster with wins for Ramy and The Act. Premium cable had a good night thanks to HBO and Showtime (The Loudest Voice), while FX (Fosse/Verdon) flew the flag for non-premium cable.
In the honourary awards, Ellen Degeneres collected the Carol Burnett Award in honour of her TV career. Degeneres, like other presenters and award recipients on the night, sent her best wishes to the people of Australia.
Tom Hanks choked up when he thanked his family as he accepted the Cecile B. DeMille award. "You're a dope if you don't steal from people… and I have stolen from the likes of people who only need one name like Meryl, Denzel, Antonio, and Sally Field," Hanks said.
More on the Golden Globes: