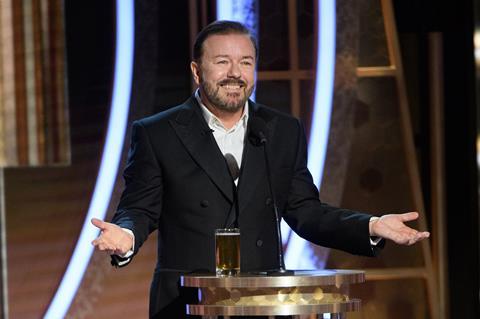 Golden Globes host Ricky Gervais snuck in a reference to Harvey Weinstein towards the end of Sunday's (January 5) show that continued his theme of calling out Hollywood hypocrisy.
"Our next presenter starred in Netflix's Bird Box – a movie where people survive by acting like they don't see a thing – sort of like working for Harvey Weinstein," said Gervais as Sandra Bullock prepared to present the final award for best dramatic film.
That drew a shocked reaction from the crowd at the Beverly Hilton in Los Angeles, however an unperturbed Gervais added, "You did it. I didn't – you did it." Weinstein, 67, is due to attend court in Manhattan on Monday for the first day of his criminal trial on five counts of sexual offences. He denies any wrongdoing.
Gervais delivered some choice jokes in a show peppered with otherwise serious if unremarkable speeches and comments from presenters and award-winners highlighting diversity, concern over the wildfires of Australia, and the need to vote in this year's US election.
"Let's have a laugh at your expense," Gervais said at the start of the show. "Remember, they're just jokes. We're all going to die soon and there's no sequel."
Among the British comic's other remarks, he ended up on the wrong side of history when he said, before a single award had been handed out: "This show should just be me coming out saying, "Well done Netflix, you win.'" The streaming platform began the night on 34 nominations for film and TV and emerged with only two acting prizes for Marriage Story and The Crown.
Commenting on the run time of Once Upon A Time… In Hollywood, Gervais quipped, "Leonard DiCaprio attended the premiere and by the end his date was too old for him. Even Prince Andrew was like, 'Come on, mate, you're nearly 50, son."
Introducing the directing award Gervais commented on lack of female nominees. "That's bad. I've had a word with the HFPA and they've guaranteed that will never happen again because… the major studios have agreed to go back two years ago when they didn't even hire female directors and that will solve the problem. You're welcome."
Michelle Williams, best actress in a limited series or TV movie for her role in Fosse/Verdon, said: "As women and girls, things can happen to our bodies that are not our choice… Women, when its time to vote, please do so in your own self-interest. It's what men have been doing for years, which is why the world looks so much like them. But don't forget we are the largest voting body in this country. Let's make it look more like us."
A flustered Olivia Colman said when accepting her best television series dramatic actress award for The Crown: "For the last year I feel I've lived someone else's life and now I definitely feel I've won someone else's award."
Bong Hoon Jo, director of South Korea's foreign language winner Parasite, said: "Once you overcome the one inch-tall barrier of subtitles, you will be introduced to so many more amazing films… we use only one language, cinema. Thank you."
Taron Egerton, accepting his award for best actor in a musical or comedy for Rocketman, directed this comment towards the film's inspiration Elton John: "Thank you for the music, thank you for living a life less ordinary, thank you for being my friend."
And Tom Hanks told the audience after he collected the Cecile B. DeMille award. "You're a dope if you don't steal from all the people you've ever worked with… and I have stolen from the likes of people who only need one name like Meryl, Denzel, Antonio, and Sally Field."
More on the Golden Globes: