Ant-Man opened with a strong $42.77m but Goodbye Mr Loser is still on top.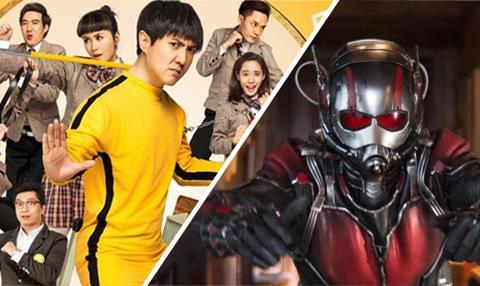 Local comedy Goodbye Mr Loser has shown legs over its release, raking in $46.69m in its third week. It beat new Hollywood release Ant-Man and retained the box office crown for the second consecutive week.
With $188.90m after 19 days, it is now the fourth biggest local film (after Monster Hunt, Lost In Hong Kong and Lost In Thailand) and the 10th biggest film overall in China.
Ant-Man, which opened Oct 16, debuted in second place with $42.77m, making it Marvel's second largest three-day opening weekend of all time in China (behind Avengers: Age of Ultron) and the second largest Disney film. China has also become the title's highest grossing offshore market.
Third place went to The Little Prince, which took $10.92m over its three-day opening weekend. Distributed by Fundamental Films, a Chinese version of the English-language 3D animation is also available, with a Chinese voice cast featuring top comedian Huang Bo and top actress Zhou Xun.
National Day holdover titles were finally slowing down.
Lost In Hong Kong dropped to fourth place with $6.76m for $252.13m after 24 days; followed by Chronicles Of The Ghostly Tribe with $5.92m for $106.38m after 19 days and Saving Mr Wu with $3.47m for $30.35m after 19 days.
Disney Pixar animation Inside Out dropped to seventh place with $2.38m for a disappointing $14.74m after 13 days.
Balala The Fairies: Princess Camellia rounded out the top ten with $0.59m for $5.95 after 18 days.
Two new local releases made the top 10 this week.
Guan Er's horror thriller Campus Mystery opened in eighth place with $0.84m after three days.
Xin Yukun's directorial debut The Coffin In The Mountain took the ninth spot with $0.67m for $0.69m after three days. The film, which won the grand prize at Warsaw last year, is a whodunit black comedy about a charred corpse found atop the mountain of a remote village.
Warner Bros' Pan will roll out on October 22, followed by local animation Where's The Dragon? and Japanese animation hit Detective Conan: Sunflowers Of Inferno on October 23.