Catch up with the key news and projects from the Goteborg Film Festival and Nordic Film Market.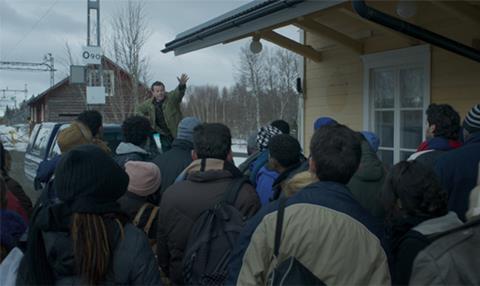 A warm 'Welcome' ahead of EFM
One of the hottest premieres in Goteborg was Welcome To Norway!, the immigration-themed dramedy that was the first film to sell out and later won the Audience Award for best Nordic film. Its industry and press screenings were also packed, setting the film up well as it heads to Berlin's EFM, where Beta Cinema handles sales.
Director Rune Langlo Denstad said he had the project in mind for more than ten years after he visited a centre for asylum seekers while working on documentary projects. A decade later, the film couldn't be more topical.
The story follows Primus (Anders Baasmo Christiansen), a desperate and somewhat racist hotel owner in a remote Norwegian village who wants to turn his hotel into a home for asylum seekers to cash in on government funding. Of course, the residents – especially Congolese refugee Abedi (played by strong newcomer Olivier Mukuta) — start to change his attitude to life.
Veteran producer Sigve Endresen said that it was while they were editing the project that Europe's new refugee crisis emerged. Given its topicality, remake interest is already strong. The film is released in Norway on March 4. Beta has already sold the film to Neue Visionen (Germany and Austria), Filmcoopi (Switzerland) and Good Films (Italy).
Moving Sweden moves ahead
Moving Sweden has greenlit its next four productions. The scheme, a partnership between the Swedish Film Institute and broadcaster SVT, encourages filmmakers to develop innovative storytelling by letting them make 30, 45 or 60 minute projects (and now also short series). The hits from the past commissions include Kung Fury, the 30 minute short that has now clocked up 23m YouTube views.
The latest seven projects from Moving Sweden were presented at the Goteborg Film Festival and Helen Ahlsson, SFI's commissioner for Moving Sweden, confirmed the next four films greenlit by the scheme, including one with a script by the late Henning Mankell. They are:
2060
Wr Therese Bringholm, dir Henrik Hellström, prod Tobias Bringholm of Storyfire
Hold Me Down
Wr/dir Niclas Gillis, prod Anette Brantin of BOB Film
Märta Proppmätt
Wr/dir Petra Revenue, prod Annika Hellström of Cinenic Film
Möte Om Eftermiddagen
Wr Henning Mankell, dir Åsa Kalmér, prod Martin Persson of Anagram Film & TV
"It has been a true thrill to see the seven new Moving Sweden films meet the audience in Goteborg. All screenings sold out. I am very proud the films are so powerful, emotional and brave in their storytelling," said Helen Ahlsson Film Commissioner, Moving Sweden, Swedish Film Institute.
Norway's young talents
Norwegian wunderkind Henrik Martin Dahlsbakken, is not content to have two films in Goteborg's Works In Progress (Cave and Late Summer) and one in the public festival, Returning Home.
The 26-year-old director told Screen he's also lining up a summer shoot for his fourth feature The Outlaws, which he describes as a "gangster musical, a cross between Bonnie And Clyde and West Side Story."
The piece is set in the 1920s and he plans to shoot it this summer in both Norwegian and Swedish. "I like to make different kinds of films, I like to explore different genres," he said.
Another young Norwegian talent making waves in the Lab is Halfdan Ullmann Tøndel, who is the grandson of Ingmar Bergman and Liv Ullmann. After shorts success (including Toronto selection) with Bird Hearts (his graduation project for Westerdals Oslo School of Arts, Communications and Technology), he is now planning his first feature, High. It will tell the story of two 17-year-old boys, Patrick and Frikk, who test each other's limits when one of them ponders suicide. In addition to being selected for the Nordic Film Lab, Tondel was also a participant at the Film School Village in Les Arcs. He also recently shot a Norwegian Film Institute-backed short, Fanny.
Profile readies Darkland
Later this month, Profile Picture will start shooting thriller Darkland, set to star Borgen's Dar Salim, Stine Fischer Christensen and Dulfi Al-Jabouri. Fenar Ahmad directs his second feature and also co-wrote with Adam August. The story is about a surgeon who goes undercover in Copenhagen's gang world to avenge his brother's death. The $1.8m (DKK 12m) project has backing from DR, Scanbox and the Danish Film Institute. Profile also has Shelley playing in Berlinale Panorama, and Rasmus Heisterberg's directorial feature debut In The Blood, which was one of Goteborg's Works In Progress presentations.