EXCLUSIVE : WestEnd is launching documentary more than five years in the making; first look.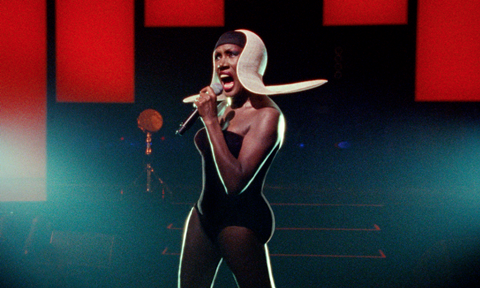 WestEnd Films has boarded world sales rights to documentary Grace Jones : Bloodlight And Bami, directed by Sophie Fiennes (The Pervert's Guide To Cinema).
The cinema vérité-style film, more than five years in the making, explores the performance, private and public worlds of the pop cultural icon, known for her diverse career as a singer, model and actor.
Currently in post-production, the film includes Jones's performances of hits including Slave To The Rhythm and Pull Up To The Bumper.
The acquisition comes under the banner of the company's recently launched female audience brand, WeLove, aimed at developing and producing female-specific content and promoting female talent.
Producers are Katie Holly (Love & Friendship) of Dublin-based Blinder Films, alongside Sophie Fiennes, Shani Hinton and Beverly Jones. Backers are BBC Films, the BFI, the Irish Film Board and Roads Entertainment.
Executive producers also include James Wilson (Under The Skin), Francesca Von Hapsburg (Marina Abramovic: The Artist Is Present) and Émilie Blézat.
Trafalgar Releasing has UK rights. WestEnd will be screening footage in Cannes.
Fiennes said: "This film began in a collaborative creative spirit. Grace had fiercely controlled her public image, but made the bold decision to un-mask. She never sought to control my shooting process, and I didn't second-guess the narrative of the film as I was shooting. I just gathered evidence. The film is a deliberately present-tense experience ; for me this is the thrill-ride of verité cinema."
Jones revealed to Screen in an interview to run this week that she is also in discussions with "well known" movie companies about a feature adaptation of her autobiography I'll Never Write My Memoirs.
Fiennes' film also features renowned photographer and Jones' frequent creative collaborator Jean-Paul Goude, as well as Jamaican duo Sly and Robbie.
Hats worn by Jones in the film are created by haute couture designer Philip Treacy while the staging for the performance sequences are based on the concepts designed for Jones by Oscar-winning designer, the late Eiko Isioka.