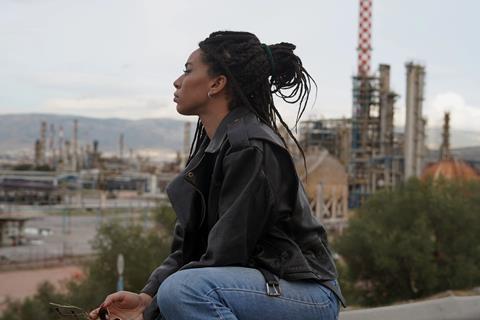 Greek supernatural drama Cora has won the Eurimages Co-production Award, worth €20,000, at the closing ceremony of International Film Festival Rotterdam's IFFR Pro Days and CineMart co-production market.
The film will mark the feature directorial debut of Evi Kalogiropoulou, whose Motorway 65 was nominated for best short film at Cannes 2020, and follows two young women who fall in love and struggle to escape the confines of a dystopian patriarchal society.
Awarding the prize, open to CineMart projects that will be a European co-production, the jury said it chose to support "a supernatural drama featuring two unexpected female characters struggling for freedom and identity in a unique and colourful industrial setting."
Cora is produced by Amanda Livanou, of Athens-based production outfit Neda Film, whose credits include Sofia Exarchou's Park, which screened at Toronto and San Sebastian in 2016.
Taking place entirely online this year, IFFR's industry platform also revealed four further prizes during a virtual awards ceremony today (February 5).
The ArteKino International Award was won by Haolu Wang's A Dutiful Wife, a Chinese psychological thriller in which a psychiatrist conceals the fact that her missing husband is locked in her wardrobe. The €6,000 prize is awarded to the producers, Liang Ying and Huang Xufeng at China's Factory Gate Films, to support the development of the project.
It will mark the feature debut of writer-director Wang, who recently told Screen of the upcoming film: "Given the context of it being set in China and being a feminist film, I can see it as being quite confrontational on many fronts. I can see quite easily the controversy it will stir."
The Filmmore Post-production Award of €7,500, to aid visual effects and post-production, went to Shahrbanoo Sadat's Kabul Jan. The romantic comedy-drama is produced by Germany's Adomeit Film and Sadat's Afghanistan outfit Wolf Pictures.
Sadat is the Afghan director, writer and producer whose debut Wolf And Sheep won the top Art Cinema Award prize in Directors' Fortnight at Cannes 2016. Her follow-up, The Orphanage, was also selected for the Cannes parallel section in 2019 and won best film at Reykjavik International Film Festival.
Her new feature centres on a woman who falls in love with a married man twice her age. Against the backdrop of a violent city and a strict Islamic society, where war is part of everyday life, the lovers have to find ways of meeting each other. The film previously received support from the Hubert Bals Fund.
The €5,000 Wouter Barendrecht Award, open to filmmakers under 35 who have directed no more than three films, went to De Maalstroom by Dutch director Teddy Cherim. Produced by the Netherlands' Graniet Film, the refugee drama marks Cherim's second feature after comedy Sterke Verhalen, which he co-directed in 2010.
The IFFR 2021 Young Film Critics prize of €2,500 was awarded to drama Viet and Nam by Vietnamese director Truong Minh Quý. The Vietnam-Philippines co-production, led by Manila-based Epicmedia Productions, is the director's follow-up to The Tree House, which premiered at Locarno in 2019.
The 38th edition of CineMart included 17 projects while BoostNL featured seven.