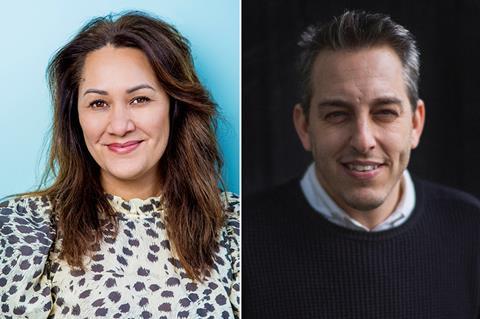 Global production company Sweetshop and expanding Israeli company Green Productions are joining forces to launch a new Australia and New Zealand-based outfit, called Sweetshop & Green.
The new company, which will become fully operational in October, will produce films and TV dramas aimed at the international market.
Sharlene George, founding partner and global executive producer of Sweetshop, co-heads the joint venture with Israeli producer Gal Greenspan, co-founder and CEO of Green Productions. Both take the title of joint managing director.
Veteran Israeli producer Moshe Edery, president and CEO of Israeli film company United King, will also work with the company on a strategic, production and distribution level.
Founded in 2001, Sweetshop has focused mainly on producing commercials up until now. It has eight offices worldwide, including in Los Angeles, New York, London, Shanghai and Bangkok.
It currently works with 29 signed directors, including Deutschland 83 director Edward Berger, Cannes Lions winner Damien Shatford (Be The Artist, Not The Canvas/Steinlager) and New Zealand filmmaker Zoe McIntosh, whose recent credits include Clermont-Ferrand winning short World In Your Window.
Green Productions is one of Israel's leading independent film production companies, combining feature film projects with commercials work. Its award-winning filmography includes Tom Shoval's Youth and Matan Yair's Scaffolding.
Combining strengths
Under the new venture, George and Greenspan want to combine their respective companies' strengths. "Our level of professionalism and worldwide experience has enabled us to export Antipodean directing talent internationally and bring foreign and large scale productions to Australia and New Zealand," said George.
"Extending this experience and history to longer format content is a natural progression for us."
For Greenspan, who is currently based between Australia and Israel, Sweetshop's global experience and know-how was a key draw.
"Cinema and TV are a global medium and these days audiences around the world are looking for new and exciting stories regardless of the language and location," he said.
Greenspan will focus on finding stories, scripts and talent for the global market, supported by the Green Productions team in Israel.
Green Productions co-founder Roi Kurland, will take on the position of CEO for the company's Israeli operations, while in-house producer Maya Fischer will assume the role of head of TV and Film.
Greenspan said Sweetshop & Green would be looking to bring more cultural diversity to the big and small screen, with a special drive to tell more stories from the Pacific region and all indigenous communities, at the same time as tapping into creative talents in Israel and Europe.
"We are eager to bring new co-productions to this side of the world and tell stories that haven't been heard before," he said.
The new venture is currently in the early stages of developing its first features and TV dramas and plans to announce first projects later this year.
Ongoing Israeli projects
In the meantime, Green Productions' Israeli arm begins shooting Tom Shoval's long-gestated character drama Shake Your Cares Away, starring Bérénice Bejo as a wealthy heiress with a crazy philanthropic streak
Green Productions is producing with German company One Two Films with Alejandro González Iñárritu on board as executive producer.
Other upcoming productions include One on One by Scaffolding director Yair, which shoots at the end of the year; Cinema Sabaya, a debut feature by Orit Fouks Rotem, about a group of Jewish and Muslim women who meet in a community bomb shelter once a week, and Maya Kenig's breast-feeding themed satirical comedy Milk.
Works in post-production include Boaz Armoni's comedy-drama The Electrifiers, about a comeback attempt by a group of former pop stars, and the Colombia-set feature Saving Shuli.