British director will premiere Eisenstein in Guanajuato at the Berlinale next month.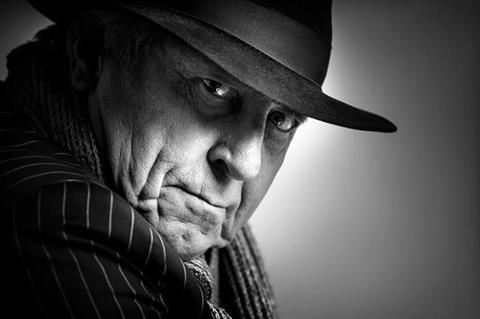 Prolific British auteur Peter Greenaway, whose new film Eisenstein in Guanajuato is set to premiere in competition at the Berlinale next month, is about to start work on new feature Walking To Paris.
The biopic of sculptor Constantin Brancusi is being made with Dutch producer and former Rotterdam festival stalwart Kees Kasander.
The film will focus on the 18 months when a 27-year-old Brancusi walked through Romania, Hungary, Austria, Germany, Switzerland and France.
Speaking to Screen about the feature, Greenaway said: "Along the way, living off the land as his years of being a shepherd boy had taught him, he had adventures - comic, violent, sexual and romantic - and certainly formative of his future sculpture, constantly building sculptures out of found materials – wood, stone, sand, snow and ice - leaving a trail of abandoned experimental temporary sculptures across the landscapes of Europe."
The film is due to begin shooting in March in Switzerland.
Later this year, Greenaway is also hoping to shoot Food For Love, his long-gestating version of Death In Venice.
He describes the film as telling "a parallel and contemporary and alternative story of that boy on the beach in the Thomas Mann/Luchino Visconti story when he becomes a 50-year-old adult, a criminal with his own private Vivaldi quartet living off successful sexual blackmail."
Second Eisenstein film
Meanwhile, Greenaway is also plotting a second film about legendary Soviet director Sergei Eisenstein with some of the actors who appeared in Eisenstein in Guanajuato.
"We have a working title - The Swiss Hoax - with a secondary title of The Eisenstein Handshakes," Greenaway revealed.
The new film will tell of how, in 1929, Eisenstein was invited to "what may be called the very first world film festival in La Sarraz in Switzerland where a gathering of international film critics, film-makers, cineastes and cinema commentators discussed and argued cinema for seven days, primarily along the old familiar lines of 'is cinema art or commercial entertainment?'"
Eisenstein is supposed to have made a film on this subject in Switzerland called Storm Over La Sarraz, although this may have been a hoax.
The Russian and his travelling companions - Tisse his cameraman and Alexandrov his assistant and co-writer - were pursued by the Swiss police since Soviets were illegal in Switzerland.
They were also reportedly blackmailed into making Frauennot - Frauenglück (Women's Misery - Women's Happiness) the very first Swiss film, about abortion.
"The First Film Festival and the first Swiss film provide an opportunity to discuss the formative 1920 years of film-making - art and commerce – and quote innumerable films from The Jazz Singer and Joan of Arc and Flaherty and Murnau to films by Muybridge, Duchamp, Man Ray, Clair, Richter, Dali and Bunuel," said Greenaway.
Other projects
Greenaway also has other projects in various states of development include Four Storms & Two Babies, "celebrating radical Dutch gender politics against a background of the exceptional architectural Amsterdam School," and new art movie Painters' Wives.
Greenaway describes the latter title as "a meditative fiction about Saskia Rembrandt and Caterina Vermeer, a celebratory project about two delectable and stalwart Dutch females, both painters' wives, with their combined 15 children, dead for Rembrandt, alive and kicking for Vermeer."
He added that the feature would deal "with all the issues of fecundity and infecundity, infant mortality, plague, child deaths, constant pregnancies, gynecological ignorance, Rembrandt painting corpses, van Leeuwenhoek, Vermeer's investigative friend, watching his sperm wriggle under the microscope – the mucky, sticky physical 17thworld of fortuitous death and unpredictable birth, huge lust, but passionate uxoriousness - all recorded directly and indirectly in their husbands' paintings and drawings. "
Greenaway also still has hopes for making Bosch, his film about that "most anarchic of Dutch painting genius Hieronymus Bosch – celebrating his anti-clerical violent comic anarchy."
Films Boutique is handling sales on Eisenstein in Guanajuato.