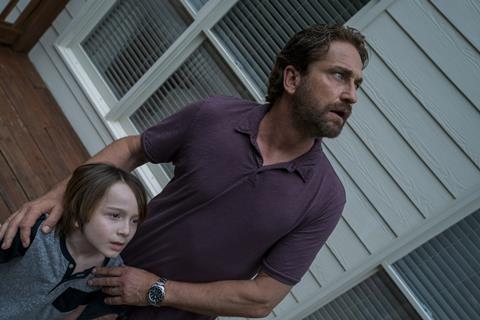 Gerard Butler's latest action thriller Greenland opened top in nine of its 11 new markets at the weekend: Taiwan, Singapore, Sweden, Finland, Norway, Switzerland, Estonia, Latvia and Lithuania.
Top new territory for Greenland at the weekend was Taiwan, opening with a five-day $1.01m from 62 locations, and a 57% market share, for local distributor CatchPlay. STX – which produced and represents the film internationally – reports that this result is 77% ahead of the debut number for Butler's Angel Has Fallen, and 174% ahead of Olympus Has Fallen.
The estimated international weekend total for Greenland is $2.82m from 1,063 locations for an estimated international cume of $4.55m. This coming weekend, the film opens in Russia, Ukraine and the West Indies. Ric Roman Waugh (Angel Has Fallen) directs the story of a family fighting for survival as a comet races to Earth.
Inception delivers $1.6m
Warner Bros' 10th-anniversary rerelease of Christopher Nolan's Inception delivered $1.6m from 37 international markets at the weekend, including $640,000 from IMAX screens. Top market for Inception was the UK, with $273,000 (£208,000) in five days from 359 cinemas. Next comes South Korea, with $197,000 from 250 sites, then Saudi Arabia, with a robust $186,000 from just 15 venues. Japan ($137,000) and Taiwan ($128,000) round out the top five territories for the film.
The anniversary rerelease serves to whet audience appetites for Nolan's new film Tenet, which is essentially delivering this year's summer blockbuster season singlehandedly. Tenet releases in multiple markets on August 26, 27 and 28, before hitting US theatres on September 3 and China on September 4.
Also for Warner Bros, family animation Scoob! added an estimated $1m from 2,129 cinemas at the weekend, bring the international total to $14.2m. Top territory so far is France (where it's released as Scooby!), with $4.8m. Next are Netherlands ($2.3m), Spain ($1.9m), Poland ($1.3m) and Germany ($894,000). Scoob! arrives in Mexico this coming weekend.
Christian film tops German chart
Studiocanal enjoyed a strong opening in Germany with I Still Believe, the biographical drama about Christian music star Jeremy Camp and his marriage to Melissa Lynn Henning, who was diagnosed with ovarian cancer prior to the marriage. The weepie opened top of the chart with $364,000 from 400 sites for the weekend period and $431,000 including previews.
In total, the international take for the Kingdom Story/Lionsgate production was $639,000, including a chart-topping $103,000 in Austria for local distributor Studiocanal. International cume is now $3.04m. Lionsgate released the film in the US in March, grossing $9.87m prior to the Covid-19 pandemic shutting cinemas, and then quickly transitioning to VoD.
Les Blagues De Toto rises to top in France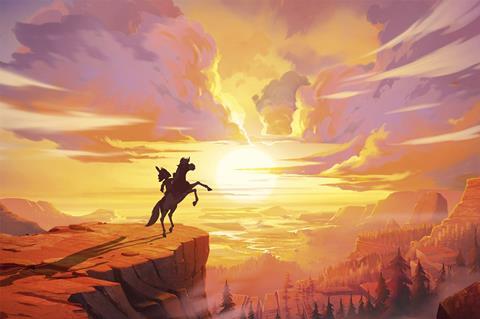 The top three titles are all holdover films in France, with top new release Yakari: The Movie entering the chart in fourth place for the five-day period August 12-16. Les Blagues De Toto rose from second to first place, knocking aside Gerard Butler's Greenland. The local family comedy saw admissions rise by 39% to 193,000, bringing the 12-day total to 399,000. Greenland's admissions declined 17% to 122,000, and a 316,000 total. Family animation Bigfoot Family is in third place, with admissions the same as the previous week.
Yakari: The Movie, Light Of My Life (in sixth place) and Voir Le Jour (ninth) were the top new releases. Bac Film's family animation Yakari: The Movie is based on a long-running TV series. Condor Distribution's Light Of My Life is written by, directed by and stars Casey Affleck in a sci-fi drama about a parent and child a decade after a pandemic has wiped out half the world's population. Pyramide Distribution's Voir Le Jour is directed by Marion Laine and stars Sandrine Bonnaire as a nurse fighting for the rights of the mothers and babies she assists.
Unhinged builds on international total
Road-rage thriller Unhinged resisted the challenge of five new wide openers in Australia to retain the box office crown, its third week at the chart summit, with a 37% drop to $322,000, and a total of $1.69m. The Russell Crowe thriller also stayed top in UK (when compared to Inception's three-day number), where rainy weather helped swell audiences including a 16% rise for Unhinged, and an $889,000 total.
The film opened in Canada and Thailand (debuting in second place, behind Greenland), bringing the total number of active markets to 24. In holdover markets, Netherlands was a bright spot, rising 57% from the previous session to take $174,000 at the weekend (third place) for a $754,000 total.
The weekend haul for Unhinged brings the international total to $7.7m. France and Belgium open this Wednesday (August 19) and the US on Friday (August 21).
Father continues Spanish domination
Following a 27% drop in its second session, Spanish comedy sequel Father There Is Only One 2 (Padre No Hay Mas Que Uno 2) achieved even better traction in its third, declining 17% to add another $1m. Total for the Sony release after three sessions is $8.4m, making it the second-biggest film of 2020 in Spain, after 1917 (which had reached $10.9m for Entertainment One prior to the Covid-19 pandemic). Santiago Segura directs, co-writes and stars in the film about a father parenting five rambunctious children. The original Father There Is Only One grossed $16m last year.