India's Dangal adds $31.5m; King Arthur plunders $29.1m from international launch.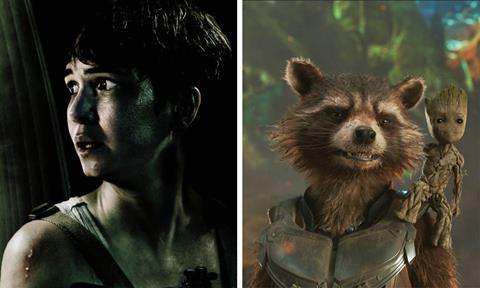 WALT DISNEY STUDIOS MOTION PICTURES INTERNATIONAL
UPDATE: Marvel Studios' Guardians Of The Galaxy Vol. 2 added $51.6m from 56 territories for $383.8m internationally, surpassing lifetime totals of The Incredible Hulk, Captain America: The First Avenger, Iron Man, Thor, Iron Man 2 and Ant-Man, as well as the March release of Logan.
Combined with $248.4m from North America, the global tally has reached $632.2m.
Japan generated a $2.9m debut, which is 15% ahead of Guardians Of The Galaxy, 30% ahead of Captain America: The Winter Soldier, and 37% ahead of Thor: The Dark World.
Guardians Of The Galaxy Vol. 2 has already exceeded the entire run of Guardians Of The Galaxy in many markets in such as the UK, France, Mexico, Brazil, Argentina, India, and South Korea.
China is the top market on $79.8m, followed by the UK on $42.7m, Russia $23.3m, Germany $22.9m, Australia $20.2m, and France $20m.
South Korea has reached $18.5m, Brazil $17.7m, Mexico $17.1m, Spain $8.5m, Italy $7.4m, and Indonesia $7.2m. The film is now open in all markets.
Guardians Of The Galaxy Vol. 2 earned a further $5.5m from 626 IMAX screens for $27.3m, including $2.7m from 398 screens in China. The woldwide IMAX tally stands at $47.5m.
Beauty And The Beast stands at $1.207bn worldwide, making it the 11th highest grossing film of all-time. The live-action tentpole added $7.5m in 30 territories for $713.3m after nine weeks.
In Japan, Beauty And The Beast decreased by just 30% in its fourth weekend for $71.1m. The UK is the top market on $89.5m, followed by China on $85.8m, Japan, Brazil on $41.4m, and South Korea on $37.5m.
FOX INTERNATIONAL
Alien: Covenant launched in the first wave of markets and delivered $42m from 34. The sci-fi thriller ranks number one in 19 markets, including the UK, South Korea and Spain.
South Korea is the top market on $7.2m, followed by the UK on $6.4m, while France generated $4.5m.
Australia produced $3.1m, Mexico $2.5m, Spain $1.9m, Hong Kong $1.8m, Brazil $1.6m, Taiwan $1.6m, and Italy $1.3m.
Ridley Scott's latest instalment in the Alien franchise stars Michael Fassbender, Katherine Waterson and Billy Crudup and opened 4% above Mad Max: Fury Road in the same markets at current exchange rates.
The film opens in 52 markets this week including Germany, Russia, and Sweden.
Alien: Covenant earned $2.1m from 157 IMAX screens and will expand into 32 additional territories this week.
Action-comedy Snatched, starring Amy Schumer and Goldie Hawn, debuted in nine markets earning $3.2m.
Australia was the top market on $2.6m for second place, Holland earned $277,000, and Israel generated $153,000 for second place. The film opens in five markets this week, including the UK and New Zealand.
The Boss Baby generated $8.7m from 67 markets, lifting the international total to $294.1m. The UK delivered a further $714,000 for $32.8m, while Argentina produced $586,000 for $5.9m. France generated $445,000 for $23.1m and Spain $386,000 for $11.8m, while Germany rounds out the top five markets on $370,000 for $13.7m.
INDIA UPDATE
The Aamir Khan sports drama Dangal grossed $31.5m over the weekend as the running total climbed to $66.5m.
Meanwhile the Telugu-language fantasy smash Baahubali: The Conclusion added $15.5m for $165.1m, rising to $184m worldwide including from North America.
WARNER BROS PICTURES INTERNATIONAL
UPDATE: King Arthur: Legend Of The Sword generated $29.6m from 51 markets and ranks number one in 23 markets, among them Russia, Scandinavia, Holland, UAE, Indonesia and Thailand.
The film ranked number one in Eastern Europe, while Russia and the UAE produced the biggest opening weekend for a Guy Ritchie film on $5.2m and $1m, respectively.
The Charlie Hunnman and Jude Law action-adventure surpassed or is on par with Kingsman: The Secret Service in most key markets, including Russia, Germany, Scandinavia, Italy, UAE, Holland and Mexico.
Russia is the top market on $5.2m, 39% ahead of Kingsman, 52% ahead of Snow White And The Huntsman and The Legend Of Tarzan, 10% ahead of Mad Max: Fury Road, and 17% ahead of Edge Of Tomorrow.
China is the second highest grossing territory on $5.2m for third place, while Germany produced $2.1m for second place, 5% ahead of Kingsman and 16% above Edge Of Tomorrow.
Mexico generated $2.1m, while Indonesia brought in $1.5m, Scandinavia $1.6m, Thailand $1.1m, the UAE $1m, and Italy $966,000.
The film also stars Astrid Bergès-Frisbey and Djimon Hounsou and rides into the UK, Australia, France and South Korea this week.
Going In Style grossed $1.7m in 44 markets, bringing the running total to $33m.
The heist comedy starring Morgan Freeman, Michael Caine and Alan Arkin generated $489,000 in France during its second weekend there for $1.7m. The UK is the top market on $3.8m, followed closely by Germany and Australia on $3.6m and $3.3m, respectively.
Mexico has generated $2.3m and Holland $1.7m.
UNIVERSAL PICTURES INTERNATIONAL
UPDATE: The Fate Of The Furious added $13.2m in 66 territories for $978.1m. Combined with $215.1m from North America, the tentpole stands at $1.193bn, surpassing Illumination's Minions ($1.16bn) to become the 11th highest grossing film of all time worldwide.
F. Gary Gray's eighth instalment of the Fast And Furious franchise is the sixth highest grossing film of all time Internationally, behind Avatar on $2bn, Titanic on $1.5bn, Furious 7 on $1.165bn, Star Wars: The Force Awakens on $1.131bn, and Jurassic World on $1.019bn.
Japan grossed $2m in its third weekend for $27.6m, which has overtaken all the Fast And Furious films. In China, the film added $1.2m for $385m (2.648bn RMB) and ranks as the highest grossing foreign film of all time in China.
China is the top market, followed by Brazil on $39.7m, the UK on $36.6m, Mexico on $36m, Germany on $31.1m, Russia on $29.1m, and France on $27.5m.
South Korea has generated $26.4m, the Middle East $21.5m, Australia $21.1m, Taiwan $20.9m, Argentina $19.7m, India $19.6m, Indonesia $19.2m, Italy $15.7m, Spain $13.9m, Malaysia $12m, Colombia $12m, and central America $10.9m.
The Fate Of The Furious is Universal's highest grossing film of all time in China, Egypt, Indonesia, Paraguay, Peru, Romania, Venezuela and Vietnam and has outgrossed the international lifetime totals of the first six Fast And Furious films.
Universal and Blumhouse's Get Out from writer-director Jordan Peele added $5.9m in 51 territories for $39.6m. Combined with $174.5m from North America, the film stands at $214.1m worldwide.
The horror debuted in four territories, including a solid launch in Argentina that brought in $316,000. Russia opened at number four on $1.2m, while France is holding strong at number three after adding $1.5m for a 12-day total of $5m. Germany held at number three in week two with $987,000 for $3m.
There are 12 more territories to open, including Brazil, Colombia, Hong Kong, Italy, South Korea, Spain and Uruguay this week.
Illumination and Universal's Sing grossed $426,000 in four territories and stands at $361.5m internationally and $631.8m worldwide.
Japan ranked fourth in week nine on $44.8m. The animation has opened everywhere.
SONY PICTURES RELEASING INTERNATIONAL
UPDATE: Smurfs: The Lost Village delivered $2.9m from 58 markets, bringing the film that features the voices of Demi Lovato and Rainn Wilson to $137m.