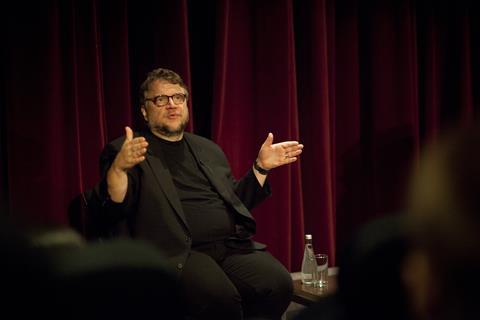 Guillermo del Toro has struck a multi-year exclusive deal with DreamWorks Animation to write, produce, and direct animated family films.
The pact, which comes hot on the heels of del Toro's expansive deal with Fox Searchlight after they collaborated on the Oscar-winning The Shape Of Water, will see the Mexican auteur take office on the studio's Glendale campus.
Del Toro's most recent association with DreamWorks Animation was for the television division as creator and executive producer in the Netflix series Trollhunters.
That show is part of his Tales Of Arcadia trilogy. Two more original series, 3 Below and Wizards, are scheduled to premiere on Netflix in 2018 and 2019.
Del Toro served as an executive producer on Rise Of The Guardians, Puss In Boots, and Kung Fu Panda 3, and as a creative consultant for Kung Fu Panda 2 and Megamind.
His involvement with the film division will extend beyond feature projects to include working with DreamWorks Animation Film Group president Chris deFaria and the studio's artists and technologists on pilot programmes that are developing ground-breaking techniques for advancing storytelling on multiple content platforms.
"We are thrilled that Guillermo is adding a film partnership to the already successful television relationship he has with DreamWorks Animation," deFaria, who announced the deal on Thursday (April 19), said.
"He is truly a one-of-a-kind artist, and we are eager to see his imagination on full display in the family animated feature space. Guillermo has a unique talent for creating memorable worlds and characters, and we believe the films we create with him will resonate with animation audiences for many generations to come."
Del Toro added, "Animation is an art form that has influenced my work greatly since childhood. To me, it's the perfect medium to bring to life any and all ideas, no matter how outlandish or wild. I am eager to work with Chris and the talented artists at DreamWorks – some of the most talented people in the business – to make these images a reality. I have worked with DreamWorks for about a decade and the horizon just keeps getting wider."