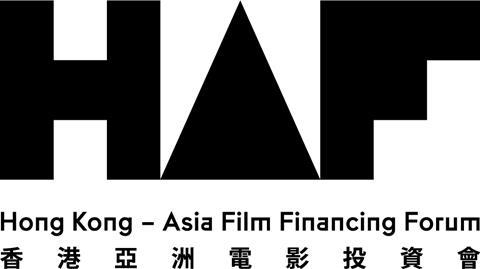 The Hong Kong-Asia Film Financing Forum (HAF) has announced the 22 projects, including ten narrative features and 12 documentaries, which have been selected for the Work-in-Progress (WIP) section of this year's HAF.
The WIP initiative will run simultaneously with the HAF main programme (August 26-28) and Filmart Online (August 26-29). Both events were postponed from March due to the Covid-19 pandemic and were recently forced to move online as travel restrictions are still in place across the region and in Hong Kong.
HAF will give further details of the online arrangements for its main programme and WIP section "as soon as practicable". The highly-regarded project platform announced the 33 projects selected for its main programme earlier this year.
Among the narrative projects in the WIP section are four features from China exploring contemporary issues, including Zhou Ziyang's Wuhai, about the impact of rapid economic development; Qiu Jiongjiong's The Neo-New Adventures, telling the life of the 20th century's top clown actor; Han Shuai's coming-of-age story Summer Blur; and Niu Xiaoyu's Virgin Blue, about a girl trapped in her grandmother's memories.
Hong Kong's Jun Li (Tracey), will present his new drama, Drifting, about homeless people in Hong Kong, while Indian-born director Prasun Chatterjee's Two Friends follows a pair of eight-year-old boys belonging to two warring religious communities.
Documentaries in the WIP line-up include Fan Jian's Born To Be Second, about children born to replace siblings lost in the 2008 Sichuan earthquake, and Luo Shuai's Being Mortal, recounting the stories of hospice care volunteers.
FULL LIST OF WIP PROJECTS:
Another Brick On The Wall (China)
Director: ZHANG Nan
Producer: CHUNG Wai-kit, QI Yu
Production Company: Arrow Factory, Tencent Pictures, Pango Pictures
Being Mortal (China)
Director: LUO Shuai
Producer: LUO Shuai
Production Company: Guangzhou Zhitianxiao Culture Co
The Borderlands (India)
Director: Samarth MAHAJAN
Producer: Sunil DOSHI, Ashay GANGWAR
Production Company: All Things Small
Born To Be Second (China)
Director: FAN Jian
Producer: Richard LIANG, S. Leo CHIANG
Production Company: FAN Film Studio
Children Of The Mist (Vietnam)
Director: HA LE Diem
Producer: Swann DUBUS
Production Company: Varan Vietnam Co
Dear Immigrants: What Was Your First Meal? (Hong Kong)
Director: WONG Fei-pang
Producer: Diana CHEUNG
Production Company: Tonikaku Pictures
I, Poppy (India)
Director: Vivek CHAUDHARY
Producer: Vivek CHAUDHARY
Production Company: Unek Films
In Between Worlds (Hong Kong)
Director: CHAN Ying-wai
Producer: LI Man-chi
Production Company: At Odds Workshop
Kith And Kin (Thailand)
Director: Waraluck HIRANSRETTAWAT
Producer: Pailin WEDEL
Production Company: 2050 Productions Co
Last Days At Sea (The Philippines)
Director: Venice ATIENZA
Producer: Venice ATIENZA, WU Fan
Production Company: Svemirko Film Productions
Leap Of Faith (China)
Director: YANG Lina
Producer: LIAO Ching-Sung
Production Company: Moon Bear Culture Creative Studio
Olympic Halftime (Czech Republic, Greece, Slovak Republic)
Director: Haruna HONCOOP
Producer: Vít JANEČEK
Production Company: D1film
The Double (The Philippines)
Director: Adolfo ALIX Jr.
Producer: Adolfo ALIX Jr., Kim JONES, Jericho ROSALES
Production Company: Inventory Films, Noble Wolf ABAJ Film Productions
Drifting (Hong Kong)
Director: Jun LI
Producer: Mani MAN, Flora TANG
Production Company: mm2 Entertainment Hong Kong
The Neo-New Adventures (China)
Director: QIU Jiongjiong
Producer: QIU Jiongjiong
Production Company: Uluka Productions
Ningdu (Hong Kong, Netherlands, US)
Director: LEI Lei
Producer: LEI Lei, Isabelle GLACHANT
Production Company: Chinese Shadows
Summer Blur (China)
Director: HAN Shuai
Producer: HUANG Xufeng, LIANG Ying
Production Company: Factory Gate Films
Two Friends (India)
Director: Prasun CHATTERJEE
Producer: Ivy SHEN Yu-Hua, Prasun CHATTERJEE, Soumya MUKHOPADHYAY, Prosenjit Ranjan NATH
Production Company: Kathak Talkies
Virgin Blue (China)
Director: NIU Xiaoyu
Producer: WANG Zijian NIU Yuan
Production Company: Blackfin Production, Big Fish Films (Anhui) Co
We Are Living Things (Italy, US)
Director: Antonio TIBALDI
Producer: HE Fan
Production Company: EnMaze Pictures Inc
White Building (Cambodia, France)
Director: Kavich NEANG
Producer: Davy CHOU, Marine ARRIGHI de CASANOVA
Production Company: Anti-Archive, Apsara Films
Wuhai (China)
Director: ZHOU Ziyang
Producer: WANG Luna, QIAN Yini
Production Company: Beijing Juben Production Company