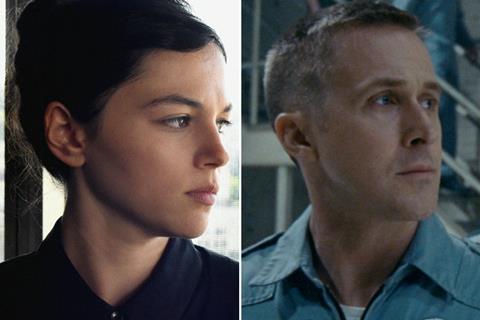 Haifa International Film Festival has unveiled the opening and closing night films, as well as a series of other additions to the programme, for its 34th edition (September 22 - October 1).
The festival will open with The Other Story, directed by Avi Nesher and starring Sasson Gabai, Joy Rieger, Yuval Segal, Maya Dagan and Nathan Goshen.
Co-written by Nesher and psychologist Noam Shpancer, the film follows a young secular woman who decides to get engaged to a hedonistic musician now living as an ultra-Orthodox Jew. This causes her divorced parents and psychologist grandfather to reunite in an attempt to sabotage the marriage.
The film comes to Haifa from Toronto Film Festival, where it has its world premiere on Saturday September 8. Goshen, who is also a musician, wrote eight original songs for the film.
Damien Chazelle's First Man, which opened Venice Film Festival last month, will close the Haifa event. Starring Ryan Gosling, the film tells the story of astronaut Neil Armstrong and the years leading up to his 1969 Apollo 11 mission to the moon.
Other screenings include the Israeli premiere of Sara Colangelo's The Kindergarten Teacher starring Maggie Gyllenhaal. The film is an English-language remake of Nadav Lapid's 2014 film of the same name.
The programme also includes Cannes titles Cold War from Pawel Pawlikowski, Woman At War from Benedikt Erlingsson and Lee Chang-dong's Burning, recipient of the record score in on Screen's Cannes jury grid.
Titles competing in the international competition section include foreign-language Oscar entries I Do Not Care If We Go Down In History As Barbarians (Romania) and Birds Of Passage (Colombia).
Guest of honour
Polish composer Zbigniew Preisner will be the festival's guest of honour, and will accept the festival's award for outstanding artistic contribution to world cinema. Preisner, who scored several of Krzysztof Kieslowski's films including The Double Life Of Veronique and the Three Colours trilogy, will also conduct a concert of his music accompanied by excerpts from the corresponding films on September 29.
The festival will also host a tribute to Agnès Varda, featuring restorations of 11 feature, documentary and short works by the director.
A virtual reality strand running from September 25-27 at the event will exhibit 50 VR and AR films from around the world, and host a series of Artist Talks with prominent figures in the VR industry.
New York media financing fund BCL Finance group have also been announced as the major sponsor of the 34th edition; they will grant three prizes for the main competition categories, and provide completion financing for three additional films, with a total contribution of $1.5 million.
Last month Haifa unveiled a programme featuring 77 Israeli films, including Aäläm-Wärqe Davidian's Toronto title Fig Tree, for which Screen exclusively revealed the first trailer this week.