EXCLUSIVE: HanWay Select boards 20,000 Days on Earth; Madman pre-buys Australia.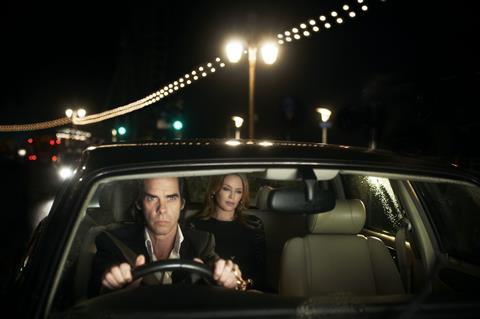 HanWay's specialty arm HanWay Select has boarded Nick Cave music documentary 20,000 Days on Earth.
Directed by visual artists Iain Forsyth and Jane Pollard, and featuring an original score by Cave and regular collaborator Warren Ellis, the film features staged footage and real-life recordings of acclaimed Australian musician Cave and his bands.
HanWay has acquired world rights, excluding UK and Australia, with the latter being pre-bought by Madman in a deal with the producers.
Produced out of Pulse Films by James Wilson (JW Films) and Dan Bowen, the film is backed by Film4, the BFI, Corniche Pictures, Pulse, PHI, and Goldin Films.
Currently in production, delivery is scheduled for early 2014 with theatrical rollout later in the year.
The film weaves drama and reality in a fictionalised 24 hours in the life of the acclaimed musician, author and screenwriter Cave, known for his bands Nick Cave and the Bad Seeds, Grinderman and The Birthday Party.
In an interview with The Guardian in July, it was revealed that the fly-on-the-wall style doc will also feature Cave eating toast and watching Scarface with his 12-year-old sons and driving Ray Winstone along Brighton seafront.
First-time feature directors Iain Forsyth & Jane Pollard were inspired by a line in Cave's songwriting notebook, in which he calculated being alive for 20,000 days.
Cave and his former band Nick Cave and The Bad Seeds have been touring the UK in recent weeks, with sets including a new song. An intimate gig, filmed at Koko in London on Sunday (Nov 3), included a duet with singer Kylie Minogue.
Celebrated musicians Cave and Ellis have composed the soundtracks to a number of lauded films including John Hillcoat's Lawless and The Proposition, for which Cave also wrote the screenplays, The Assassination of Jesse James by the Coward Robert Ford and The Road.
Fabien Westerhoff, director of sales and distribution at HanWay Select, said: "The film combines staged footage and real life recording, an approach reminiscent of Jean-Luc Godard's Sympathy for the Devil and more recently Nimród Antal's Metallica Through The Never.
"Combining Iain and Jane's immersive style - as shown in their previous work re-staging David Bowie's Ziggy Stardust- with Erik Wilson's lush cinematography, the result is a spellbinding study of one of the great living rock 'n' roll figures that will entertain audiences worldwide."
Recent and upcoming films on the HanWay Select slate include Rio Siege, Finding Vivian Maier, The Unknown Known, Vara A Blessing, Seduced & Abandoned, Dirty Wars, The Story of Film: An Odyssey and Woody Allen: A Documentary.