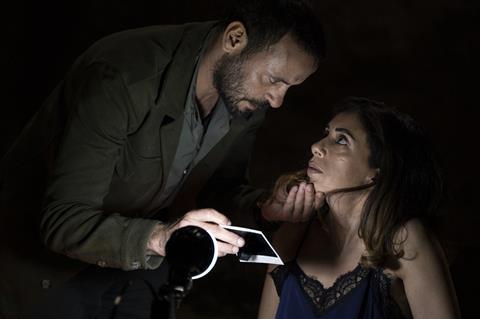 Palestinian director Hany Abu-Assad is gearing up to return to the set of his upcoming feature Huda's Salon on July 15, after shooting was suspended on March 20 due to the Covid-19 pandemic.
The "feminist spy thriller" set in the West Bank city of Bethlehem was three weeks into a six week-shoot when it shut down on March 20. Production will be able to start up again as soon the borders of Israel and the Palestinian West Bank reopen to non-citizens, enabling five key international crew members to fly in.
The reopening of the borders had been expected to happen around July 1 although a recent flare-up in cases of the virus in both territories could potentially put these plans on hold. For now, though, Abu-Assad confirms that July 15 is the resumption date for the shoot.
Prior to production being halted, the first half of the shoot had taken place in Abu-Assad's native town of Nazareth against the backdrop of an ancient, dried-up subterranean reservoir.
"It's hundreds of years old. The film is set between two worlds – one underground, the other above – and it was the perfect location for what I was trying to achieve and a similar site didn't exist in Bethlehem," explained Abu-Assad.
Based on real events, the film stars Manal Awad (Degrade, The Idol) as a woman who runs a network of informers out of a salon in Bethlehem, opposite Maisa Abd Elhadi (The Reports On Sarah And Saleem) as a young woman she attempts to blackmail into providing information. When militants raid the salon, the women are thrown together in a battle for survival.
Abu-Assad and his wife Amira Diab are lead producing under the banner of their H&A Production alongside Egyptian producer Mohamed Hefzy at Cairo-based Film Clinic. Paris-based Memento Films International, which launched sales on the title at EFM, has released a first-look image.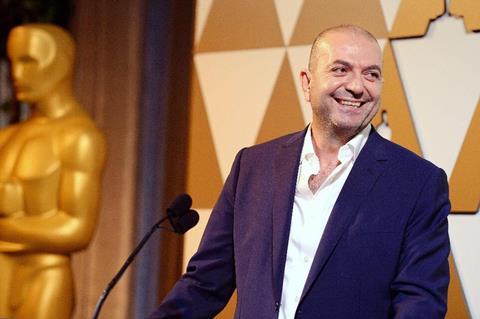 Abu-Assad said he had been taking the hiatus in his stride.
"At the beginning I was very upset because I wanted to continue shooting. At that point, we were aiming to be ready in time for Venice but then the whole world stopped and we were in all in the same situation.
"Suddenly there was no deadline. I've found time to read and catch up with movies that have been on my watchlist for a decade - films like Welcome To The Dollhouse, A City Of Sadness, Flowers Of Shanghai. I've actually been loving it."
Abu-Assad has also been continuing to co-write The King's Wives, his joint TV series project with his wife, set against the backdrop of an imaginary, modern-day Middle East kingdom.
It revolves around a young monarch in waiting (loosely inspired by the former Shah of Iran) whose claim to the throne is threatened by the fact he only has daughters. In a plot, hatched with his feminist wife, he weds another four women in a bid to sire a son, each with their own agenda.
The project, which is Abu-Assad's first TV series, was presented at the Berlinale 2020 Co-Pro Series financing event earlier this year. "We already have six episodes written and the aim is to shoot it next year in Morocco or Turkey," he said.
The new normal
Abu-Assad acknowledged that his first foray into TV was proving to be unexpectedly timely.
"I make films for the cinema and rather than platforms like Netflix or Amazon, but I believe that the coming year is going to be tough, especially for smaller, independent films," he said. "I'm not a pessimist but I have to be realistic. Once corona is behind us, there are going to be far more films trying to get back in cinemas."
The director has also been devoting time to rethinking the production to fit with the new normal of living with Covid-19. Once shooting does start up again, the plan is for the cast and crew to live in a production bubble for the duration of the remaining shoot.
"The incoming crew will have to quarantine for two weeks and all the cast and crew will be tested for the virus twice before coming on set. We'll take over a whole hotel in Bethlehem and all stay there so we'll be living like one family," said Abu-Assad.
"Most of the Bethlehem part of the shoot is taking place in a single house which we're already renting so no-one is allowed to use it and it will be thoroughly cleaned before we shoot. None of these measures are easy or fun, but they will allow us to shoot without social distancing which would be problematic for more intimate scenes."
The delay has also hit the film's budget but Abu-Assad plans to cut two shooting days to balance spending. If production is able to resume in July, one of the biggest challenges will be the weather because the story is set in the winter.
"Fire and indoor heaters play a role in the story. I use them as a device to express the inner conflict of the characters. I'm worried that the actors will sweat when we start shooting scenes with them in winter clothes and heaters on inside. The weather outside is not so much of a problem. We can solve that with VFX."
Another concern for Abu-Assad is that his cast may have been affected by the lockdown, which has impacted some people psychologically.
"We were shooting in chronological order and they were all completely in the mindset of their characters," he said. "I've been calling them all every week to see how they are. They're not all in great mental shape but hopefully once we get back on set again, they'll get back into character."
Huda's Salon marks Abu-Assad's first feature shot in Palestine since his 2015 drama The Idol. In between, he directed the 2017 action adventure The Mountain Between Us, starring Kate Winslet and Idris Elba, for Chernin Entertainment and 20th Century Fox. Returning to an indie production back home has been very different, he admits.
"In Hollywood, I didn't have to worry about anything except my job as a director. Here, I'm thinking about how we're going to resolve the corona issues, fix the budget, bring people in from outside, ready the location. I sometimes feel more like a troubleshooter than a director.
"But I'm optimistic. We'll have the film completed sometime around November but where we might end up showing it, that's another question. Berlin, Cannes – will they be open and will people come? Nobody knows."