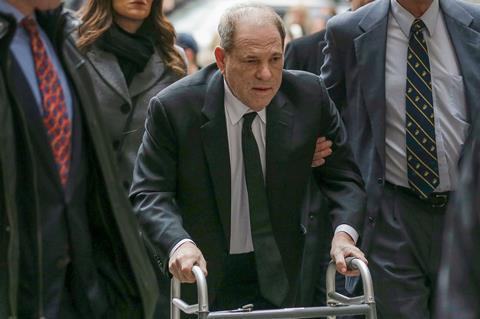 Harvey Weinstein has been found guilty on Monday (24) of two charges in his Manhattan rape trial.
The former Hollywood mogul has been convicted of third-degree rape of Jessica Mann, and first-degree sexual assault for forcing oral sex on Mimi Haleyi (also known as Miriam Haley).
Third-degree rape carries a maximum sentence of four years in prison and Weinstein will be required to register as a sex offender. The first-degree sexual assault charge carries a five-25 year sentence.
The jury of seven men and five women acquitted Weinstein of the two most serious charges of predatory sexual assault and one charge of first-degree rape of Mann.
Weinstein, 67, will be sentenced on March 11 and was taken to hospital in Manhattan on Monday after complaining of chest pains en route to Rikers Island prison.
Lead defence attorney Donna Rotunno said they would appeal the decision and said, according to reports: "Harvey is very strong. Harvey is unbelievably strong. He took it like a man. He knows that we will continue to fight for him and knows that this is not over."
Weinstein now faces a reckoning with prosecutors in Los Angeles, where he faces charges of forcible rape, forcible oral copulation, sexual penetration by use of force, and sexual battery by restraint. If found guilty on those charges, the convicted rapist could get 28 years in prison.
Weinstein initially pleaded not guilty in his New York indictment to five felony counts and stood accused of raping Mann at the DoubleTree hotel on March 18, 2013, and sexually assaulting Haleyi at his Soho apartment in 2006.
Both accusers testified at the trial in New York Supreme Court in lower Manhattan. At one point Mann broke down uncontrollably while giving evidence and Justice James Burke suspended proceedings for the day.
The court also heard from four "prior bad acts" witnesses whose accusations were introduced as evidence by prosecutors to establish a pattern of behaviour by Weinstein.
One of those "prior bad acts" witnesses was Sopranos actress Annabella Sciorra, who told the court last month that Weinstein raped her sometime in winter 1993-94 in a "disgusting" incident during which she said her body shut down and began to shake uncontrollably.
Rotunno questioned why the accusers had not reported the alleged attacks to police immediately after they said they had taken place. The defence team subpoenaed former friends of the accusers to attest they had not complained about the incidents when they saw them shortly afterwards.
The defence attorney also challenged the accusers' recollection of events, at one point bringing in psychologist Elizabeth Loftus, a human memory expert at the University of California, who told jurors that people's memories can become distorted after the fact.
In her closing arguments Rotunno attempted to dismantle accusers' testimony by highlighting seemingly friendly emails from Mann and Haleyi that she said suggested the existence of a meaningful relationship with Weinstein.
In prosecution closing arguments Manhattan assistant district attorney Joan Illuzzi, who led the case against Weinstein, said the former producer believed his power and status would scare the women upon whom he preyed from coming forward and complaining.
The jury deliberated all day on Monday without delivering a verdict. Illuzzi chided Rotunno for writing an op-ed piece that ran in Newsweek magazine on Sunday in which she urged the jury to "do what they know is right". Illuzzi said the piece "borders on tampering with the jury".
Since 2017, more than 80 women have accused Weinstein of sexual misconduct. The former Hollywood mogul has consistently denied any non-consensual sex.