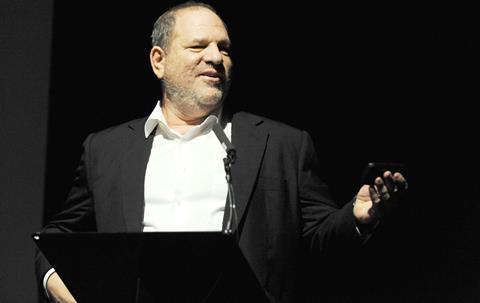 Harvey Weinstein sent an email to a number of high-powered Hollywood and media titans pleading with them to prevent him from being fired.
The latest revelation came on Monday and it is understood the former film mogul sent the email at the weekend, suggesting he knew his job was on the line before his position was terminated on Sunday by the board of The Weinstein Company (TWC).
The start of the week brought a torrent of developments including one unconfirmed report that The Weinstein Company might change its name, and a statement from the SAG-AFTRA guild representing actors, radio personalities and broadcasters.
The email, leaked on Twitter by Janice Min, former co-president and chief creative officer of The Hollywood Reporter-Billboard Media Group, read as follows:
"My board is thinking of firing me. All I'm asking is let me take a leave of absence and get into heavy therapy and counseling whether it be in a facility or somewhere else. Allow me to resurrect myself with a second chance. A lot of the allegations are false, as you know, but given therapy and counseling as other people have done, I think I'd be able to get there.
"If you can, I need you to send a letter to my private Gmail. The letter would only go to the board and no one else. What the board is trying to do is not only wrong but might be illegal and would destroy the company. If you could write this letter backing me getting me the help and time away I need and also stating your opposition to the board firing me, It would help me a lot.
"I am desperate for your help. Just give me the time to get therapy. Do not let me get fired. If the industry supports me, that is all I need. With all due respect, I need the letter today."
Min also tweeted that she had confirmed that recipients of the Weinstein email included NBCUniversal vice-chairman Ron Meyer, Discovery Communications president and CEO David Zaslav, and WndrCo founder and former DreamWorks Animation CEO chief Jeffrey Katzenberg.
Separately, SAG-AFTRA issued the following statement:
"We commend the courage and candor of every woman who has spoken out about the disgraceful, aggressive and inappropriate behavior they experienced with prominent industry employers. We support their right to speak out and we lift up their voices so that their truths can be fully heard. Everyone has the right to work in an environment free of discrimination and harassment.
"The behavior alleged on the part of Harvey Weinstein is abhorrent and unacceptable. Unfortunately, it is more prevalent than our industry acknowledges and many times victims are afraid to tell anyone. Those who do come forward empower themselves and others to speak out.
"We also commend the New York Times for the extraordinary reporting that uncovered and brought to light the allegations in this case. We believe that each of us has a fundamental right to be safe in our person and to be treated with dignity and respect at work. There is more to be done by all of us to ensure the safety of women in the industry.
"We operate the SAG-AFTRA Safety Hotline specifically for members to report safety violations including harassment and inappropriate or aggressive behavior. If you are being coerced or threatened or simply feel that a situation is not right or is uncomfortable – speak out. We hear you. Call 844-Safer Set any time day or night and a dedicated SAG-AFTRA rep will be notified and will help address your concerns. We all have the absolute right to be safe at work."
In other developments:
Apple has scrapped a biopic series on Elvis Presley from The Weinstein Company;
Reports have circulated that Weinstein's name will be removed from all TWC TV series where he has served as executive producer. Screen was unable to confirm this at time of writing;
Kate Winslet, who won the best actress Oscar in 2009 for The Weinstein Company's The Reader, said of Weinstein: "His behaviour is without question disgraceful and appalling and very, very wrong";
Longtime Weinstein collaborator Kevin Smith said on Twitter on Monday, "He financed the first 14 years of my career - and now I know while I was profiting, others were in terrible pain. It makes me feel ashamed."