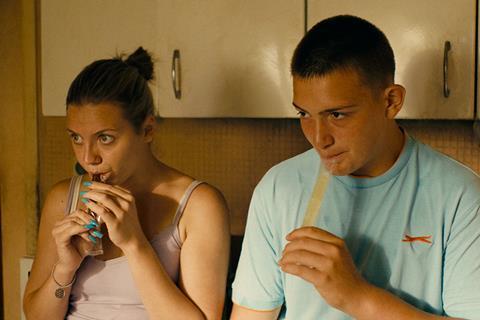 Athens-based Heretic has acquired world sales rights to Belgian director Paloma Sermon-Daï's fiction debut It's Raining In The House (Il Pleut Dans La Maison) which world premieres in Cannes' Critics' Week.
Heretic has previously collaborated with Sermon-Daï, handling sales for her documentary Petit Samedi which world premiered at the Berlinale Forum in 2020.
French distributor Condor has picked up French rights to It's Raining In The House, after previously collaborating with the film's co-producer Kidam on 2021 Critics Week' title Zero Fucks Given. Recent titles distributed by Condor in France include Aftersun and Joyland.
Set in the midst of a hot and stormy summer by a tourist lake, It's Raining In The House centres on 17-year-old Purdey and her younger brother Makenzy who walk the line between experiencing adolescence, finding love and fending for themselves. While Purdey works as a cleaner in a hotel complex, Makenzy earns some money by robbing tourists. Left to their own devices, they must learn to support each other in what feels like the last summer of their youth.
Makenzy Lombet stars as Makenzy, while Purdey Lombet plays Purdey.
It's Raining In The House is produced by Sébastien Andres and Alice Lemaire as delegate producers of Belgium's Michigan Films, together with Francois-Pierre Clavel of France's Kidam and Gert van Berckelaer of Belgium's Visualantics.
It's the fifth project on which Michigan and Kidam have collaborated in the past 10 years, after three shorts films by Emmanuel Marre (Le Désarroi Du Flic Socialiste Quechua, Le Film De L'été, D'un Chateau L'autre) and Simon Coulibaly Gillard's hybrid feature Aya which played in Cannes' ACID programme in 2021. They are also currently co-producing Life Ahead by Olivier Meys, which is shooting this summer.
It's Raining In The House is a coproduction with WIP (Wallonie Image Production), RTBF (Télévision belge), Proximus and Shelter Prod, with the support of Centre du Cinéma et de l'Audiovisuel de la Fédération Wallonie-Bruxelles, Taxshelter.be and ING, Tax Shelter du Gouvernement Fédéral de Belgique, Région Wallonne et Fonds Audiovisuel de Flandre (VAF), and the support of Centre National du Cinéma et de l'Image Animée, Région Nouvelle Aquitaine, Procirep and Angoa.
Ioanna Stais, Heretic's head of sales and acquisitions said: "Sermon-Daï delves once again into a territory she knows deeply well, capturing a fresh journey of adolescence. We are confident and excited to be nurturing this unique and strong talent's next step. While Paloma's intimate storytelling never shies away from the harshness of reality, her gentle gaze stubbornly refuses to give in to misery."
Condor Distributions CEO Alexis Mas said: "We connected immediately with the two young characters. The film captures something very authentic in their relationship. We are deeply convinced of Paloma's rising talent as a filmmaker, through her vision and work with actors."
Michigan Film's Sebastien Andres and Alice Lemaire added: "From production to distribution, we like to make films and work on them in family spirit. We're happy to join our forces with such committed partners on this film. We share the same passion in bringing new talents and special voices to light."
Heretic's current sales line-up also includes Berlinale Golden Bear winner Radu Jude's Do Not Expect Too Much From The End Of The World, Sundance Special Jury Award winner And The King Said, What A Fantastic Machine and English language Palestinian/UK BFI co-production A House In Jerusalem directed by Muayad Alayan.